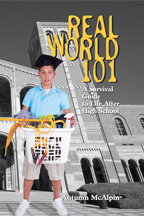 This book is funny, a quick read, and really informative--perfect for me and my busy schedule!
Orange County, CA (PRWEB) May 11, 2011
Author Autumn McAlpin shows high school grads how to navigate—and overcome—the daily challenges of life in the Real World after graduation.
A nineteen-year-old college student assumes she can write checks until her checkbook is empty, without regard as to how much money is actually in her bank account. An eighteen-year-old boy nervously places a butterfly bandage on a half-inch deep cut over his eye that desperately needs stitches, because the only doctor he has ever known lives back home--2,000 miles away. A female college freshman calls her older brother in the middle of the night, panicked—she doesn't know how to plunge her toilet, and her roommates will be home any minute and discover her embarrassing mess. Yes, these are all horrific, but true, stories of… America's next generation. These are the people who will soon be running our stores, our credit card numbers, our country. But currently, they don't have a clue.
This spring, approximately 3.2 million high school graduates will enter the Real World. As they flee the safety and security of parents and high school principals, someone needs to be there to tell them how to go grocery shopping, operate a washing machine, set up a bank account, get a job, and get a life. Otherwise, we'll all be in trouble.
Every high school graduate needs a copy of Real World 101: A Survival Guide to Life after High School. Real World 101 includes thirty chapters of anecdotes and advice to help previously pampered kids survive scholastically, domestically, financially, physically, and socially.
Real World 101: A Survival Guide to Life after High School is the first comprehensive Real World guide that encompasses all the basics of young adult life. With its honest, humorous tone, ease in readability, and highly useful information, it appeals to all audiences and makes the perfect graduation gift.
From cap and gown to total independence, Real World 101 is the only guide the high school graduate will ever need.
A former runway model, screen actress, and English teacher, Autumn McAlpin now works freelance as a screenwriter, editor, copy writer, and humor columnist for The Orange County Register. Her work has been published in various academic journals and magazines, and produced on stage and on screen. Autumn lives in San Clemente, California with her husband Michael and their four children.
###