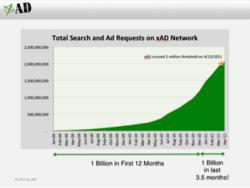 San Francisco (PRWEB) May 05, 2011
Local mobile advertising network, xAD, today announced the hiring of two senior-level managers, part of the ongoing expansion of its executive team. Babak Dehnad is joining as vice president of global human resources and Steve McCarthy is the new chief financial officer. The company has seen impressive growth over the past year, expanding its staff as the demand for local mobile advertisements grows.
McCarthy, who is joining as the new CFO, is coming to xAD from Private Equity, where he oversaw finance, accounting and operations for all fund portfolio companies. McCarthy has extensive experience with technology companies, including MySQL, Vitria Technology, Exodus Communications and Centura Software. In his new position, McCarthy will be responsible for all aspects of finance and accounting.
"I'm very excited about joining such a talented team with such an amazing opportunity," said McCarthy. "I look forward to being a part of a sector with such impressive growth, and joining a team that has a solid track record of exceeding plan-to-market results."
Dehnad, xAD's new vice president of global human resources, comes to the company with an impressive resume in recruiting, and experience working with tech startups. Previously, he held multiple HR leadership positions at software and technology companies, including Phoenix Technologies, MySQL, Taleo, Zambeel and QRS Corporation. At xAD, Dehnad will be responsible for continuing to expand the team globally, and developing business results through existing employees.
"I'm thrilled to be an xADer," said Dehnad. "I look forward to scaling our workforce, to support xAD's incredible growth, and to best serve our publishers, advertisers and partners in the U.S. and abroad. "
In addition to the hiring news, xAD today announced it had served its two billionth local mobile ad request, a significant milestone for the company. After serving one billion ads in the first 18 months since launch, xAD doubled this in the past 4 months, serving another one billion ads since January.
Local mobile advertising has seen explosive growth in the past year. The U.S. local mobile industry is currently estimated to be a $213 million market, and it's expected to exceed $2.025 billion by 2014, according to the Kelsey Group.
"We've seen impressive growth since our launch, and it's exciting to watch the demand for local mobile advertising skyrocket, and be a key part of the market growth," said Dipanshu "D" Sharma, CEO of xAD. "2011 seems to be the year of mobile advertising, and xAD is establishing itself as a leader of this rapidly expanding local market segment."
xAD has become the mobile ad network of choice for third-party developers and publishers who specialize in local, navigation, social, and directory applications seeking better content relevance and monetization of their products. Local mobile ads are highly actionable and track-able for advertisers and publishers: 25 percent of clicked-on ads lead to a call to the business.
Developers and publishers interested in xAD can learn more at http://www.xad.com.
About xAD, Inc.
xAD is a mobile ad exchange specializing in location-based advertising. xAD is the largest local mobile ad exchange in the United States - connecting 1.2 million local advertisers with 300 million search requests and 10 billion ad impressions a month. Publishers use xAD to monetize their location-based apps, sites, and devices using xADs performance.
###