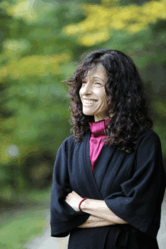 "Goddard was founded to be an experimenting college, and is always adapting, ready and receptive to change." - Dr. Barbara Vacarr
Plainfield, Vt. (PRWEB) May 06, 2011
Goddard College will inaugurate Dr. Barbara Vacarr as its 10th president on Saturday, May 7 at 2:00 PM in the Upper Garden of its main campus in Plainfield, Vermont. The ceremony is open to the public, and a 3:15 reception will follow on the campus' Clockhouse Lawn.
Governor Peter Shumlin will attend and speak at the event.
Goddard College is experiencing renewed financial stability and institutional strength. The college today reports the highest enrollment it has seen in 30 years, it has a healthy contingency fund, and recently received its first 10-year accreditation from the New England Association of Schools and Colleges.
"Goddard was founded to be an experimenting college, and is always adapting, ready and receptive to change," said Vacarr. "We are an adult-learning, low-residency college. This model reflects the needs of modern students. As we approach our 150th anniversary, we have a tremendous opportunity for sustainable growth. It's an exciting time to be here."
Vacarr assumed leadership of the college in July 2010, after a year-long search to replace Dr. Mark Schulman, who served as president from 2003-2010.
"We just launched the nation's first low-residency BA in Sustainability," said Vacarr. "As enrollment at Goddard continues to grow, both in Plainfield, VT and Port Townsend, WA, we will continue to launch new educational experiments."
Goddard offers BA, BFA, MA and MFA degree programs in Individualized Studies, Interdisciplinary Arts, Creative Writing, Psychology, Sustainable Business and Communities, Education and Licensure, Sustainability and Health Arts and Sciences.
Vacarr holds a PhD in psychology from Union Institute and University, and is a published scholar on the subjects of Adult Learning and Diversity Education. She comes to Goddard after a 23 year tenure as a faculty member and administrator at Lesley University, where she designed the Adult Learning PhD program and directed all of the PhD programs in the School of Education.
She is the founder and senior leader of an Intergenerational Women's Mentoring Collective. Vacarr also served as an interviewer for Steven Spielberg's Visual History of the Shoah Project, Project Leader for the Cambodian Youth and Missing History Project and speaker for the international educational organization Facing History and Ourselves.
The inauguration will include a keynote address by Margot Stern Strom, founder and executive director of Facing History and Ourselves, a leading international organization in education for justice and the preservation of democracy.
About Goddard College:
Originally formed as the Green Mountain Central Institute in 1863, and becoming the Goddard Seminary in 1870, Goddard College was chartered in 1938 at its Plainfield, Vermont campus by founding President Royce "Tim" Pitkin. Its mission is to advance the theory and practice of learning by undertaking new experiments based upon the ideals of democracy and the principles of progressive education asserted by John Dewey. In 1963, Goddard College became the first U.S. college to offer adult-degree programs, and now specializes in MA, MFA, BA and BFA low-residency education. Offering accredited degree programs from campuses in Plainfield, Vermont and Port Townsend, Washington, Goddard's low-residency format offers the best of on-campus and distance education, with experienced faculty advisors, rigorous on-campus residencies, and the freedom to study from anywhere.
Contact:
Kevin Ellis
KSE Partners, LLP
802-371-8112
kevin(at)ksepartners(dot)com
or
Diane Zeigler
KSE Partners, LLP
802-839-6520
zig(at)ksepartners(dot)com
# # #