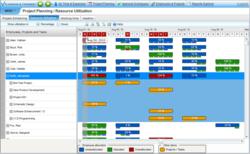 "In terms of collecting the hours and preparing the invoices, that has shortened it by 30-40 hours per month."
Moncton, New Brunswick (PRWEB) May 12, 2011
DOVICO Software announces significant updates to both of its project and time management softwares; DOVICO Timesheet and DOVICO Planning & Timesheet. In these new releases, customers are now able to track time and expenses in multiple currencies. And with each expense entered into the system, you can now attach a receipt.
The new multiple currency features have already impressed long time multinational customers like Allianz and AON Global. These companies, which have staff employed all over the world, can now review, compare and analyze their costs in any currency. For a company like Technology Engineers, Inc. whose employees all stay close to home, and which has world-wide clients, the multi-currency features are equally beneficial when preparing contract bids or invoicing.
"DOVICO's goals in these product releases were to assist companies in managing, not only their time, expenses and projects, but also help them manage these in the reality of corporate expansion and outsourcing." said Yves Doucet, CEO at DOVICO.
Available as either a hosted service or an on-premise installation, both products are available for a FREE 30 day trial.
Immediate Benefits

Analyze and bill projects when you use more than one currency to pay employees, or to bill your international clients.
Track and budget project costs in any currency.
Analyze and report on any project, in any currency.
Enter expenses purchased from anywhere in the world.
New simplified navigation with frequently used views just one click away.
Boilerplate
About DOVICO Software
The Company
As a leading developer of Time Management Software, DOVICO Software provides proven time and cost saving solutions that have been embraced by thousands of the world's best known companies such as Wawanesa Insurance, National Geographic, McAfee Inc. and Microsoft.
Established in response to the emerging global demand for enhanced operating efficiency, our easy-to-use web based timesheet for Employee Time Tracking and Expense Management Software improves employee efficiency, staff productivity, project control and increases profitability in 60 days… We Guarantee It!
###