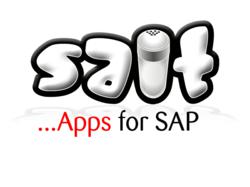 "These powerful little chore-handlers help a lot of teams deal more efficiently with the furious rates of evolution in the infrastructures they maintain."
Orlando , Florida (PRWEB) May 17, 2011
Revelation Software Concepts Pty Ltd (RSC), creator of the widely used Rev-Trac® change control technology for use with SAP® solutions, today released Salt Apps™ 1.4, introducing an expanded Watch Bot app and completing the set of eight mini-apps announced for Salt when the beta platform was released in 2010. Providing practical system monitoring for IT installations running SAP solutions that can't justify the expense or complexity of standalone monitoring tools, Watch Bot now adds system events to the object changes already monitored, making it extremely useful to system administrators, project teams, developers and other stakeholders.
The initial free Salt platform and mini-apps, which provide automated change functionality targeting custom code in SAP solutions, received a warm welcome from Basis and project teams globally as the rapidly growing Salt Apps user community traded tips, tricks and new ideas with Salt's developers. Rapid adoption by IT teams managing SAP software-based information systems ranging in size from small to global surprised even RSC's developers, who had expected only a gradual uptake by SAP software users.
In the v1.4 update, Watch Bot has expanded its monitoring from objects to system level, making it a valuable tool for multiple system-level stakeholders. For example, a project manager can know immediately if any system goes down, while developers or customizers can be alerted and resume work immediately when a system comes back up, or even be informed of a system restore that removes some of their changes. A Basis member can check uptime patterns by tracking the Watch Bot alerts, while email alerts can notify of system events even when recipients are at home, working remotely or otherwise not logged into the system.
"We're delighted to complete this useful set of free tools for use with SAP software solutions," said David Drake, RSC CEO and driving force behind the Salt platform. "Making our tools available to customers with installations of any size will help every IT team to become more productive and efficient. These little apps quickly become a normal part of IT workflows as teams discover how automating even small, routine chores boosts their productivity."
Each Salt App automates a small but essential chore that is not big enough to justify creating a separate major application or module. Such chores, like eyeballing differences between custom objects or finding objects missing from one system but present in another, take time if done manually but are a necessary part of proper system maintenance.
Salt 1.4 completes the initial suite of "change intelligence" Salt App utilities. More tools will be added to the suite on a frequent basis. Comments Adam Cleversley, senior programmer at RSC, "These powerful little chore-handlers help a lot of teams deal more efficiently with the furious rates of evolution in the infrastructures they maintain. That's one reason our Salt user forum is so active – people send in great ideas for new apps that other users help refine. We're having no trouble at all in coming up with new Apps that people will want."
Current Salt Apps are as follows:

Watch Bot: Sends email alerts on detecting specified system events or changes to monitored objects, based on criteria preset by the user
Code Ferret: Allows users to search through all their custom ABAP™ code in any selected SAP solution-based system
Version Vault: Keeps copies of all SAP custom object source versions safe and accessible
Match Box: Compares objects and object versions within and between different systems
Matrix: Identifies custom, versionable objects present in one system but missing or different in another, or confirms that objects in multiple systems are the same
Life Saver: Creates and displays auto-saved snapshots of recently changed objects in any system
WIP Window: Identifies and displays current "work in progress" by author or task owner
Cold Case: Identifies aging and expensive work that may have been forgotten or abandoned
The free Salt platform runs as a plug-and-play virtual appliance driving the Salt Apps in use, so that adding another mini-app never requires a major IT effort. Earlier in 2011, the platform received certifications from SAP as powered by the SAP NetWeaver® technology platform and from VMware as "VMware Ready".
Salt supports up to three systems at no charge. Additional, fee-based subscriptions are available to support up to 20 systems. The new Salt service and apps are independent of RSC's flagship Rev-Trac change control product, and Rev-Trac is not required.
Future Salt Apps will be announced via Twitter @SaltApps, LinkedIn, Facebook, the Salt user forum, and other Web-based channels. Current Salt Apps can be seen in action at the SaltApps Channel on YouTube, where subscribing to the channel delivers notifications and demos of new Salt Apps as they appear.
More detail on all Salt Apps, including options and prices for professional and enterprise licenses, can be found at http://www.saltapps.com. RSC is featuring Salt Apps demos at the SAPPHIRE® NOW conference, where it is exhibiting in booth No. 2219. More on Revelation Software Concepts and its flagship Rev-Trac 6.0 change control technology can be found at http://www.xrsc.com.
About Revelation Software Concepts
Revelation Software Concepts (RSC) specializes in change control management technologies for use with SAP solutions, developing market-leading software to reduce the risks and lower the costs of delivering changes into production systems. Since RSC was founded in 1997, some of the world's largest companies have come to rely upon its mature change control solutions. Its deep expertise and responsive support have made RSC the leading change-control specialist for SAP solution-based infrastructures around the globe. RSC is 100% SAP-focused. Its flagship change control solution, Rev-Trac, is certified as powered by the SAP NetWeaver technology platform. Rev-Trac supports change control for both ABAP and non-ABAP technologies, reflecting RSC's commitment to technologically innovative change control solutions that serve current market needs. For more information, visit http://www.xrsc.com.
Note to Editors—Salt Apps and Rev-Trac are trademarks or registered trademarks of Revelation Software Concepts Pty Ltd. SAP, SAP NetWeaver, ABAP, SAPPHIRE and all SAP logos are the trademarks or registered trademarks of SAP AG in Germany and in several other countries. VMware and VMware Ready are trademarks or registered trademarks of VMware, Inc. in the United States and/or other jurisdictions. All other trademarks or registered trademarks are the property of their respective owners.
###