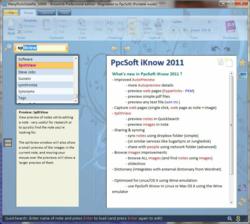 We are drowning in information - where do you find what you need when you need it ?
Bergen, Norway (PRWEB) May 10, 2011
In July 1945, Vannevar Bush described the first hypothetical hypertext system, memex, in the article 'As We May Think'. This concept influenced the early hypertext systems, eventually leading to the creation of the World Wide Web we have today.
Bush envisioned "an enlarged intimate supplement to one's memory", a device in which you would store all of your books, records, and communications. Instead of traditional indexing he envisioned a storage system analogous to the human brain using associations, where any item may be connected to another.
"We are drowning in information," said Atle Iversen, founder of PpcSoft. "Google has indexed over 1 trillion web pages, and more pages are created every day. You get more and more information from the web, meetings, e-mails, Facebook, Twitter etc. The problem is, where do you find what you need when you need it ?"
PpcSoft iKnow 2011, the personal knowledge manager for MS Windows, is finally able to fulfill the vision from 1945

automatic linking of related notes (by association)
an easy to use editor for creating/ storing knowledge
instantly recall knowledge with a few keystrokes
automatic viewing of related items
easy sharing of knowledge with colleagues
PpcSoft iKnow is an easy to use, lightning fast productivity tool designed to simplify people's life by letting them easily store all their knowledge in one place, and then quickly find everything again when they need it.
PpcSoft iKnow combines the best features of MS Word, Wikipedia and Google to give you an easy to use and powerful 'external brain' where all your knowledge is stored and automatically connected (and quickly found using search and links).
The powerful automatic links are generated dynamically, which means that if you create a new note named 'Trip to Paris', all instances of this text in all notes (including all your old notes) will automatically become links to this new note.
If you paste text into a note, the text will be scanned and any words matching your note titles will be converted into links to your notes. If you capture a web page, the same conversion happens with the captured text.
All your knowledge is stored locally on your computer, not in the cloud. You have 100% control of your knowledge, and it is always accessible.
Manage information overload with PpcSoft iKnow - your external brain.
For additional information about PpcSoft iKnow, contact Atle Iversen.
Pricing and availability:
PpcSoft iKnow is available for MS Windows XP sp 2, Vista and Windows 7 in four editions (retail prices USD): Lite (default, free for 100 notes), Home ($29 for 1.000 notes), Standard ($79 for 5.000 notes) and Professional ($249 for 100.000 notes).
About PpcSoft:
PpcSoft is a privately held software development company founded in 2002, and specialize in the creation of software for the Microsoft Windows platform. PpcSoft is headquartered in Bergen, Norway (Europe).
Contact:
Atle Iversen, Founder PpcSoft
atle(dot)iversen(at)ppcsoft(dot)com
http://www.ppcsoft.com
# # #