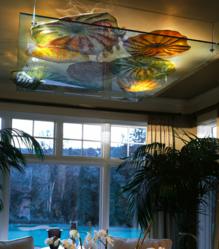 Artisan work and craftsmanship have become important watchwords in the architecture and interior design fields.
Langley, Washington (PRWEB) May 06, 2011
Over the past twelve years Functional Art Gallery has created a family of online resources with one aim – to bring artisan and designer sinks, lighting and furniture to the designer, architect, builder and discerning homeowner. The company has become the place to go, not just for spectacular products, but also for reliable and exceptional customer service. With the growing popularity of unique handmade items, the company saw an opportunity to better identify its place in the design world.
"Artisan work and craftsmanship have become important watchwords in the architecture and interior design fields," said Jack Healy, owner of ArtisanCrafted.com. "As Functional Art Gallery we've been proud to be a big part of this movement. And now, as ArtisanCrafted.com, we're renewing our commitment to our artists and to artisan made products."
ArtisanCrafted.com encompasses several online resources, including Sinks Gallery, Copper Sinks Online, Artisan Crafted Lighting, GlassArtistsGallery.com, CustomFurnitureOnline.com and WoodArtistsGallery.com, all of which still provide the unique and beautiful products they've become famous for. Healy decided the time had come to showcase all the company's offerings under one easily recognizable name.
"We've changed the name of our parent company from Functional Art Gallery to ArtisanCrafted.com, a name that's more descriptive of exactly what we do," he said. "This name will also allow us to easily add artisan crafted items that might be more geared to display than function to our offerings."
ArtisanCrafted.com carries on the Functional Art Gallery traditions of:

Convenient and inspiring online catalogs full of ideas for client projects
Specific, yet interconnected sites for specific product types
A broad array of design styles and materials
Products custom designed for clients, or made to their specifications
Unmatched customer service
ArtisanCrafted.com will continue to seek out the very best in artisan and handcrafted sinks, lighting and furniture for an amazing array of styles and options. The company's focus remains on functional and architectural works of art for both residential and commercial projects.
Architects and designers who want custom solutions made specifically for their special projects by true artisans can visit ArtisanCrafted.com or call 877-320-0800 to work directly with an ArtisanCrafted.com representative. When it needs to be perfect, look no further than ArtisanCrafted.com.
# # #