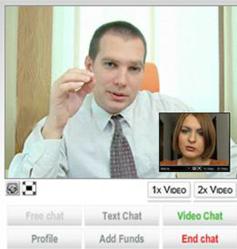 "Sometimes people just need an easy and cost effective way to get expert advice on their time", says Mossanen.
Toronto, ON (PRWEB) May 09, 2011
When entrepreneur Julian Mossanen decided to open his own business, he found himself frustrated by his inability to get just a few minutes to talk to different experts that he needed. Attorneys, for example, were not interested in just answering a couple of questions without asking for huge fees. His financial and legal questions made him wish that there was a way to get live experts on the phone or on video chat anytime he needed them, and so he was inspired to develop LiveExperts.tv.
"Sometimes people just need an easy and cost effective way to get expert advice on their time. They may have just one or two questions to ask or may need ongoing advice. They also may not even have access to high quality experts in their local area, which compounds the problem," said Mossanen.
LiveExperts.tv is live online community of experts from many different disciplines including attorneys, doctors, relationship therapists, veterinarians, dietitians, computer programmers, marketing experts and more. Several of these carefully selected experts have written books and are top advisors in their respective fields. Experts can offer their time for free or for a per-minute fee, it's their choice. Consumers can log in and immediately chat with an expert using live video, chat, email or the phone.
Convenience played a large role in the development of the site as Mossanen said that people don't want to be forced to hire a babysitter, drive far from home and suffer the other associated inconveniences when having to see an expert. And in many cases, consumers may just not know who to turn to for answers and are not getting the quality and personal touch they need from other online resources. The site gives people access to top professionals who are screened before being allowed to work with clients on the site. Many experts are immediately available when a person logs onto the site while others require an online appointment.
"The great thing about the site is that the first few minutes are always free so that consumers can be sure the expert is right for them. All of our experts have been rigorously screened for competency and suitability and all communications are strictly confidential and secure. We also score them to make sure they meet certain requirements and have client feedback reviews to help us maintain the integrity of the service as well," said Mossanen.
Mossanen also points out that professionals can sign up to become experts on the site in their area of expertise. He says that professionals can make extra income by providing quality advice to consumers and can use the site to generate leads for their offline businesses as well. There are also a growing number of retirees with a lifetime of experience that would welcome the opportunity to help those in need and have a supplemental income.
About LiveExperts.tv
LiveExperts.tv is an innovative site that connects consumers with top quality experts via online video, chat, email or phone. Need advice? Visit us at http://www.LiveExperts.tv. If you would like more information about this story, or to schedule an interview with Julian Mossanen, please call Julian at 416 566 3699 or email at julianm(at)gmail(dot)com.
###