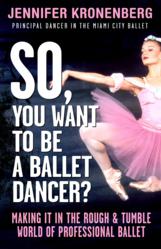 New York, NY (PRWEB) May 12, 2011
Is everything really so beautiful at the ballet? For Miami City Ballet principal dancer Jennifer Carlynn Kronenberg it is; but it wasn't always so. SO YOU WANT TO BE A BALLET DANCER?: Making It Through The Rough And Tumble World Of Professional Ballet, the concert of her penchant for writing and passion for ballet, takes the reader through tales of how she made it through all of her high jinx mishaps, missteps and tribulations, and continued on to a glorious career as a prima ballerina with an internationally acclaimed ballet company.
Jennifer's book covers everything from what to look for in a school, to how to deal with performance anxiety, to what to eat on a training day and how to mend pointe shoes. Her stories will make you laugh and cringe, with the added bonus of reassurance that even prima ballerinas make mistakes (which are usually pretty embarrassing!).
SO, YOU WANT TO BE A BALLET DANCER? isn't just for dancers. For those readers who enjoy ballet from the balcony, this book offers insight that will exponentially increase both their appreciation for and understanding of the art. And for those dancers who don't want to pursue ballet professionally, the book offers validating advice on how to make the most of a wonderful hobby and how to apply training as a dancer on a day-to-day basis and in a variety of other careers.
"Ballet can be such a scary word, conjuring up images of waifish dancers and harsh instructors, intense competition and backstage drama. Not exactly what little girls dream of when they put on tutus and flail around the living room. As young dancers mature on the path to professionalism, I hope my experiences and advice can help them to enjoy all the positive aspects of the career, to realize that it doesn't have to be scary or intimidating—that it can instead be a rich, self-asserting practice in which dancers can blossom in every area of their lives." In a world of skin-tight clothing and all the pressure a dancer can handle, Jennifer's insights will boost confidence, decrease anxiety and self-criticism, and help dancers take it to the next level, onstage and off.
About the Author
Jennifer Carlynn Kronenberg was born in Queens, New York where she trained with Teresa Aubel, Nicholas Orloff, Norman Walker, and Barbara Walczack. She continued her studies on scholarship at the School of American Ballet before joining Miami City Ballet as an apprentice in 1994 at the age of 17. She moved steadily through the ranks and was named Principal dancer in 2001. Ms. Kronenberg has danced many leading roles; some of her favorites include Balanchine's "Rubies", Who Cares?, Allegro Brillante, Duo Concertante, Sonatine, Swan Lake, and Stravinsky Violin Concerto, as well as the classics - Grand Pas Classique, Coppélia, Don Quixote, Giselle, and John Cranko's Romeo and Juliet. Ms. Kronenberg has been a regular teacher for the Miami City Ballet Summer Intensive Program for the last several years, and has also been a guest teacher with Ballet Arts of Jackson Tennessee, El Ballet de Monterrey Curso de Verano, New Orleans Center for Creative Arts, and Ballet Chicago, among many others.
About Diversion Books
Diversion Books is an eBook publishing company headquartered in New York City and focused on developing books with quality authors. Diversion combines the best of old and new publishing. We offer the quality and care of traditional editorial and production services along with the efficiency, author empowerment and new revenue models made possible by the latest advances in electronic publishing. Diversion distributes through all the major e-book retailers, including Amazon Kindle, Apple iBookstore, Barnes & Noble NOOK, Borders / Kobo, Copia, Ingram (55+ retailers), Google Books, and Sony Reader.
For more information on Diversion Books (http://www.DiversionBooks.com), call 212.961.6392 ext. 8, or email mary(at)diversionbooks(dot)com.
So, You Want To Be a Ballet Dancer? by Jennifer Kronenberg
Making it in the Rough and Tumble World of Professional Ballet
Publication Date: April 26, 2011
Publisher: Diversion Books
List Price: $3.99
ISBN: 9780983337102
Editors Note:
I'm not sure if you cover this or what you're working on right now, but I thought this could be of interest to you. Ever since Black Swan came out, there's been tremendous interest in what it takes to be a prima ballerina. Jennifer Carlyn Kronenberg, principal dancer in the internationally acclaimed Miami City Ballet, has a new book out on just this--how to make it in the world of professional ballet. She shares stories of her own experiences, as well as tips and advice on everything from auditioning, to handling the pressure and stress of training, to mending pointe shoes. If you would like to schedule an interview with Jennifer or request a review copy, please let me know. I can be reached by phone at (212) 961-6390 ext. 8 or by email at
mary(at)diversionbooks(dot)com.
USEFUL LINKS:
Tweet/Share This:
Miami City Ballet Principal Dancer Jennifer Kronenberg's new release now available via @DiversionBooks. http://tinyurl.com/42s5478
Diversion Books Author Bio:
http://tinyurl.com/4yrb6yo
Request a review copy of So, You Want To Be A Ballet Dancer?
To request a review copy, please reply via email.
###