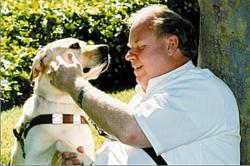 He may be dead, but the war is not over.
Novato, CA (PRWEB) May 07, 2011
Michael Hingson, blind from birth, an author and international public speaker, was on the 78th floor of tower 1 in the World Trade Center on 911, 2001. He reflects on the death of Osama bin Laden.
On September 11, 2001, Michael Hingson, who was born blind, was on the 78th floor of Tower 1 of the World Trade Center with his guide dog Roselle. His coworkers were just getting to work when the terrorist plane hit the other side of the building 18 floors above. As people began to recognize that something terrible had just happened and their imminent need to get out of the burning building, Michael and his guide dog Roselle led co-workers and others to safety, navigating down 78 floors in a darkened stairwell.
When asked by a local TV station what he felt when he heard that Osama bin Laden was dead, Michael replied, "I immediately felt joy that justice had been served." He added that, "I feel that a chapter has been closed and we can now move on." His recent interviews with many news organizations over the last couple of days have caused him to reflect on the war on terror. Michael adds this one comment to another reporter who asked him about Bin Laden's demise:
"He may be dead, but the war is not over."
For Michael, the events surrounding his escape from Tower 1 minutes before its collapse set the stage for an unforgettable and life-changing story of trust and teamwork. The tragedy and the compelling story of survival propelled Michael into the spotlight after being interviewed by Larry King on several occasions immediately after 9/11. Since then, over the last decade, Michael has shared his inspirational message all over the world, becoming an internationally known keynote speaker. His message remains both urgent and timely. According to Michael Hingson, trust and teamwork are our most important "weapons" for fighting against an ideology that still threatens our core values and our national safety.
Michael's inspiring story of transformation will soon be available in his new book which will be released in August, "Thunder Dog: The True Story of a Blind Man, his Guide Dog, and the Triumph of Trust at Ground Zero." Larry King, who took a very keen interest in Michael and his guide dog Roselle has graciously authored the forward and declares that it will be "a real page turner." "Thunder Dog" can be pre-ordered on Amazon and Barnes and Noble online. Find out more about Michael Hingson and his speaking engagements at his website: http://www.MichaelHingson.com
###