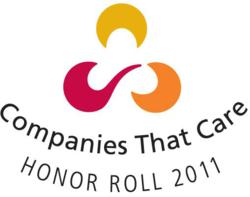 "Employees come first," explains Sue Bennett, director of marketing, The Care of Trees.
Wheeling, Illinois (PRWEB) May 06, 2011
The Care of Trees, an arboricultural firm serving residential and commercial clients with services including pruning, fertilization, soil care and cabling based in Wheeling, Illinois, has made the 2011 Honor Roll for the Center for Companies That Care.
The Honor Roll, a national list recognizing employers for outstanding workplace practices and active community involvement, includes privately-held and publicly-traded organizations, as well as not-for-profit employers.
"Employees come first," explains Sue Bennett, director of marketing, The Care of Trees. "We've increased the development opportunities and benefits offering available to employees. We also have a variety of recognition program to celebrate and encourage employee contributions."
Companies that care respect employees and are committed to community service. They demonstrate 10 Characteristics that go to appreciating people, work/life balance, and giving back. This uniqueness defines the standard for all organizations that strive to be recognized as best places to work and being socially responsible.
"The Care of Trees always impresses our selection committee with its focus on safety and to making sure employees know the important work they do," says Marci Koblenz, founder and president, Center for Companies That Care.
The Care of Trees frequently communicates with employees and seeks their opinions to let them know their contributions to the business are important. It is rate that an employee who speaks out and has a recommendation or opinion is not heard. The company regularly forms teams of employees to reviews a potential change and its effects on them as well as the business. These teams also discuss the optimal roll out and communication plans.
Honor Roll recipients will be officially honored at a 360° engagement conference in Portland in May, where Joseph Grenny, the author of "Crucial Conversations," is keynoting. Many Honor Roll organizations will be sharing their best practices during the conference. It is open to the public.
Center for Companies That Care is a national, 501(c)3 not-for-profit organization dedicated to engaging employers in improving the lives of employees, families and communities.
If you're interested in applying for the 2012 Honor Roll, or would like to see the full 2011 Honor Roll, please visit http://www.companies-that-care.org or call 312.661.1010.
# # #