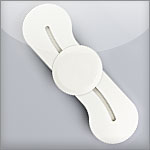 it's time we get the word out that there is a safe and dignified way to transfer patients
St. Paul, MN (PRWEB) May 10, 2011
BeasyTrans Systems, Inc., manufacturers of the Beasy Board Easy Transfer System family of products today announced a safety initiative designed to promote safe handling practices among caregivers when transferring mobility-restricted patients. With spinal injuries on the rise and job-related injury claims contributing to escalating health care costs, the Beasy Board Guide and Glide Initiative Training Seminars will promote the use of this product in health care facilities throughout the country.
"We've been advocating the use of the Beasy Board Transfer Systems for over a dozen years and it's time we get the word out to everyone that there is a way to transfer patients in a safe and dignified manor, without causing undue stress on the care-giver(s). We will be conducting hands-on training sessions to effectively enhance the user experience," stated Linda Pavek, Director of Operations at BeasyTrans Systems, Inc. She continued: "We'll be kicking-off our Guide and Glide Training Tour on May 24th with hands-on training with the Mayo Clinic in Phoenix, Arizona. It's important to educate healthcare workers in their own institutions and we welcome inquiries from hospitals, nursing homes, rehab clinics, and other sizable healthcare facilities."
Notable features of the Beasy Board include minimizing and eliminating tissue tears and skin lesions that cause infectious complications for patients. The American engineered and manufactured Beasy Board Systems are designed to safeguard users from potentially tissue tearing incidents. Moderately mobile paraplegics report enhanced independence and dignity when they use their Beasy Boards as they can transfer themselves to and from their chairs to cars, toilets, showers, etc.
About BeasyTrans Systems, Inc.:
The BeasyTrans Original, Beasy II, and BeasyGlyder Easy Transfer Systems are manufactured by BeasyTrans Systems, Inc., a veteran owned small business based in North Branch, Minnesota. The Beasy technology places the user on a safe, stable seat. The seat is designed to move easily across the base of the system, not the user's skin. Consequently, shear forces and friction, present in some other transfer techniques, which can cause or contribute to tissue breakdown, are eliminated. To learn more, visit http://www.beasyboards.com If you are interested in setting up a Beasy Guide and Glide Training Seminar for your area or institution, submit an online request or call 1-877-992-3279.
Contact: Linda Pavik, Director of Operations at 651.674.0212
# # #