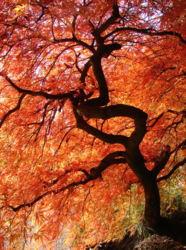 "We had no idea how successful this contest was going to be," said Katie Saylor, Springbok's Marketing Director. "We had more than 500 submissions in the first 10 days of the contest. It was incredible!"
Kansas City, MO (PRWEB) May 06, 2011
Springbok Puzzles announced the winners of the first Springbok Puzzle Image Contest today. The Image Contest was launched January 29, 2011 on National Puzzle Day as part of Springbok's celebration of this annual event. In addition to a $500 cash prize, the 1st place winning image will be made into a 500-piece Springbok puzzle.
As its first contest winner, the 45-year old puzzle company, best known for its bold design and innovation within the puzzle making industry, chose a photograph by Hannah Jones, a 21-year old pre-med student at Bowdoin College. Jones won the contest with a luminescent photograph of crimson leaves above a lightening shaped tree trunk.
"The sun was illuminating all the leaves," said Jones. "I was just trying to get optimal color." The Chattanooga, Tenn. native entered the contest with no serious expectation of winning. "I'm very interested in the visual arts, in general," Jones says. "Both my grandfather and my mother take pictures so it's important to me. My mom taught me a lot about photography. And a lot of the art classes I have taken have taught me to look at the world in a new way. They also have helped me to set up a composition."
"What I like about this image is the brilliant color and the unique flow of the branches," said Steve Streit, Springbok's chief "puzzle picker." Streit has been picking puzzle images for Springbok for nearly 10 years. "As a puzzle image, it offers both a challenge to assemble as well as a great framed piece of art."
Sue Morris of Bristol, Wis. won 2nd place and $250 for her stunning photograph of a pink flamingo. Springbok's facebook fans voted on their favorite images each week. Two of Morris' photographs ended up as consistent favorites with Springbok's facebook fans.
"We had no idea how much fun and how successful this contest was going to be," said Katie Saylor, Springbok's Marketing Director. "We were hoping for 500 submissions during a period of six to eight weeks. Instead, we had more than 500 submissions in something like the first 10 days of the contest. It was incredible!"
A special release of Jones' puzzle is scheduled for June 2011.
Springbok is best known for its strong graphics and high-end puzzles. The company recently launched Puzzles to Remember, a line of puzzles created for Alzheimer's patients; and they are the designers of Springbok Family Format, puzzles which feature different size pieces within a single puzzle so different abilities can work a puzzle together.
Springbok Puzzles
Springbok is located in Kansas City, Mo., and has been a leading name in the puzzle world since 1964. Because Allied Products has taken on the challenge of upholding this world famous name, we have focused on the qualities that give Springbok its reputation: originality, innovation and superior quality. Our current puzzle collection features more than 100 designs in a multitude of formats. As one of the few puzzle manufacturers that makes puzzles exclusively in the U.S.A., Springbok takes pride in the superior quality of its puzzles.
###