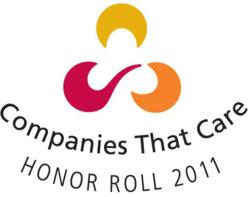 "We're pleased that the Center for Companies That Care recognizes the strong focus KPMG puts on our Corporate Responsibility platform and the initiatives we undertake to support our people and communities in which we live and work," says Kathy Hannan
New York, New York (PRWEB) May 08, 2011
The Center for Companies That Care has named KPMG LLP, the U.S. audit, tax and advisory firm, to its 2011 Honor Roll. This marks the eighth successive year that KPMG has made the Honor Roll.
The Center recognizes employers, including privately-held and publicly-traded companies as well as not-for-profit organizations, for "outstanding workplace practices and active community involvement."
"KPMG continuously seeks more ways to help employees, families, and communities thrive. Their success in improving policies, practices, and programs is the reason KPMG has been on our Honor Roll for eight years," says Marci Koblenz, founder and president, Center for Companies That Care. "They are a role model among employers for diversity and inclusion, development, and community service."
According to Koblenz, companies that care demonstrate ten characteristics related to appreciating people, work/life balance, and giving back. "This uniqueness defines the standard for all organizations that strive to be recognized as best places to work and being socially responsible," she said.
"We're pleased that the Center for Companies That Care recognizes the strong focus KPMG puts on our Corporate Responsibility platform and the initiatives we undertake to support our people and communities in which we live and work," says Kathy Hannan, national managing partner, diversity and corporate responsibility, KPMG LLP.
Honor Roll recipients will be officially honored at a 360° engagement conference in Portland in May, where Joseph Grenny, the author of "Crucial Conversations," is keynoting. Many Honor Roll organizations will be sharing their best practices during the conference. It is open to the public.
Center for Companies That Care is a national, 501(c)3 not-for-profit organization dedicated to engaging employers in improving the lives of employees, families and communities.
If you're interested in applying for the 2012 Honor Roll, or would like to see the full 2011 Honor Roll, please visit http://www.companies-that-care.org or call 312.661.1010.
# # #