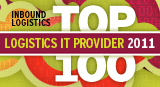 Charlotte, NC (PRWEB) May 06, 2011
Integration Point ®, a provider of global trade management and trade compliance solutions, is excited to be recognized as a Top 100 Logistics IT Provider for the fourth consecutive year by Inbound Logistics. This year's winners, selected from over 300 companies, where chosen due to their ability to answer Inbound Logistics readers' needs for scalability, simplicity, fast ROI, and ease of implementation while matching their fast-changing needs.
"When choosing the 2011 Top 100 Logistics IT Providers, Inbound Logistics editors looked at excellence in optimizing internal transport and logistics operations," said Felecia Stratton, Editor at Inbound Logistics. "At a higher, more strategic level, selections were based on how transformative solutions impact outward- facing business activities driving integration across internal, as well as external, business processes. Integration Point was selected because its solutions solve key logistics challenges, improve processes, and create a ripple effect of efficiencies across the entire value chain. Inbound Logistics is proud to honor Integration Point for innovative solutions empowering logistics and supply chain excellence in 2011."
"Integration Point works hard to provide innovative solutions for our customers," said Tom Barnes, CEO of Integration Point. "We are honored to receive this recognition."
About Inbound Logistics
Since its inception in 1981, Inbound Logistics' educational mission is to illustrate the benefits of demand-driven logistics practices, give companies the knowledge to help them match the inbound flow of materials to their demand, and align their business process to support that shift. Inbound Logistics offers real-world examples and decision support to guide businesses to efficiently manage logistics, reduce and speed inventory, and offset rising transport costs, supporting business scalability across their value chain. More information about demand-driven logistics practices is available at http://www.inboundlogistics.com.
About Integration Point, Inc.
A leading provider of global trade management solutions, Integration Point provides import and export capabilities, up-to-date regulatory information for 140+ countries and connectivity to supply chain partners and government agencies across the world. Built on a single, web-based platform, Integration Point allows organizations to secure their supply chain and comply with global regulatory requirements while improving visibility and realizing savings. Integration Point Global Trade Management includes solutions for: import/export management, supply chain security, entry validation, denied party screening, product classification, free trade agreement qualification, foreign-trade zone, and Global duty deferral program management.
Contact Integration Point at http://www.IntegrationPoint.com or 704-576-3678.
# # #