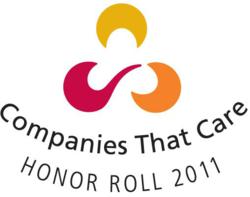 "We truly value our own employees, and, in turn, are able to help our clients create similar positive work environments to support their employees," said Fran Durekas, founder and chief development officer, CCLC.
Las Vegas, NV (PRWEB) May 09, 2011
CCLC®, a leading provider of customized child care and early childhood education solutions for companies and their employees, was named to the 2011 Honor Roll for the Center for Companies That Care. CCLC has earned this distinction for the third year in a row.
The Honor Roll, a national list recognizing employers for outstanding workplace practices and active community involvement, recognized CCLC for its excellence across 10 Characteristics that define caring, responsible organizations. The characteristics include encouraging work-life balance, appreciating employees, developing employees and leaders, providing competitive compensation and benefits, volunteering in the community and more.
"At CCLC, we practice what we preach," said Fran Durekas, founder and chief development officer, CCLC. "We truly value our own employees, and, in turn, are able to help our clients create similar positive work environments to support their employees. This third consecutive Honor Roll recognition reinforces CCLC's dedication to engaging and appreciating our employees."
During 2010, CCLC focused on employee engagement and satisfaction. This resulted in enhancements to the ways it developed staff and showed appreciation for employee contributions. Notably, CCLC's focus on development and hiring led to lower than average turnover. CCLC also offers leadership and teacher career ladders, thus allowing employees to play to their strengths and to have fulfilling careers no matter which ladder they climb. High-performing teachers have the chance to receive awards or attend conferences as recognition for their contributions. CCLC participates in a variety of community service activities – helping nurture an attitude of service with youngsters.
"Allowing employees to pursue the career path that plays to their strengths is just one example of how CCLC cultivates the full potential of its staff," says Marci Koblenz, founder and president, Center for Companies That Care. "CCLC has demonstrated excellence in all 10 characteristics of a company that cares, and we are proud to have them on our Honor Roll yet again."
Honor Roll recipients will be officially honored at the Companies That Care 2011 Symposium in Portland, May 10-12, where Joseph Grenny, the author of "Crucial Conversations," is keynoting and many Honor Roll organizations will share their best practices. Knowledge Universe, CCLC's parent company, is the corporate sponsor of the symposium. In addition, HR professionals attending the conference's Employee Engagement track can apply the hours toward two (Specified -Strategic Business) recertification credit hours for PHR, SPHR and GPHR recertification through the HR Certification Institute. Please visit the HR Certification Institute website at http://www.hrci.org, for more information about the recertification process.
Center for Companies That Care is a national, 501(c)3 not-for-profit organization dedicated to engaging employers in improving the lives of employees, families and communities.
If you're interested in applying for the 2012 Honor Roll, or would like to see the full 2011 Honor Roll, please visit http://www.companies-that-care.org or call 312.661.1010.
CCLC® is a leading provider of employer-sponsored early childhood education and care solutions to a wide range of organizations, including many Fortune 500® companies. Founded in 1992, CCLC operates more than 100 eco-healthy child development centers for children ages six weeks to 12 years. CCLC's customized care programs foster healthy learning for children and support its clients' work-life vision for employees. CCLC partners with employers to give them an edge when courting, acquiring and retaining talent. The company has been honored by organizations such as Working Mother® and the prestigious Center for Companies That Care. For more information, visit http://www.cclc.com, find us on Facebook® at facebook.com/ConnectCCLC and follow us on Twitter® at twitter.com/ConnectCCLC.
###