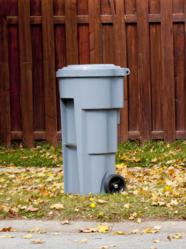 As a home owner myself, a resource for home and garden solutions is of value.
Barrie, ON (PRWEB) May 06, 2011
The warmer weather of spring brings with it the influx of wildlife into our communities. Rural locations are especially susceptible to animal contact, including bears. In trying to keep human-bear conflict to a minimum, Busch Systems is presenting the Bear Resistant Container. With the launch of a new website, http://www.bearproofbin.com on May 2nd, 2011, Busch Systems is providing a solution to help keep animals out of your trash.
Bear and wildlife safety measures have been adopted by several communities across North America. Several localities, such as one in British Columbia have gone so far as to adopt by-laws requiring residents to store trash and recyclables in bear resistant containers.
Providing a resource for increased and enhanced recycling efforts is what Busch Systems is founded upon. Waste & Recycling Consultant Nick Stocki states "As a home owner myself, a resource for home and garden solutions is of value, especially in regard to recycling, composting or finding a safe way to prevent bears, dogs and raccoons from getting into your garbage or recyclables".
In regard to animal proof garbage cans, the Bear Resistant Container will open new possibilities by allowing for safely keeping animals out of trash receptacles, while promoting recycling and providing a solution to the human-bear conflict problem.
For additional information or a sample copy, contact:
Chris McBrien
Busch Systems International
(705) 722-0806 - office
(705) 722-8972 - fax
'Bear Resistant Container', changing the way we recycle.
# # #