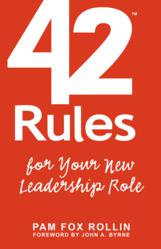 I wish I had this book early in my career!
Cupertino, CA (PRWEB) May 06, 2011
Super Star Press today announces the availability of the newest title in the 42 Rules book series, "42 Rules For Your New Leadership Role" by author Pam Fox Rollin. The author will donate her proceeds from every sale today to the nonprofit TransAccess to help people with disabilities succeed in the workplace.
"42 Rules for Your New Leadership Role" describes practical and effective actions for leaders to make a strong start in their new VP, Director, or Manager jobs. Drawing from extensive interviews with corporate leaders, and the author's 20 years as a strategy consultant and executive coach, these rules form the manual they forgot to hand most leaders when they got that promotion or offer letter.
Topics include how to gain cooperation from teams, read the business culture at a new level, tee up smart "quick wins", show others how to work with them, assess the business risks in the new role, make the most of their strengths without overdoing it, work around their weaknesses, use team screw-ups as an advantage, redesign an undoable job, and stay focused on the plan when everyone wants the new leader to fight fires and solve the problems on their desks.
"I wish I had this book early in my career! By now, I've seen hundreds of people start leadership roles—from senior executives to customer-facing team leads—some starting brilliantly, some struggling unnecessarily. This book points you to the actions that make all the difference in those critical early months," said Peter Aceto, CEO, ING DIRECT, Canada.
About the Author
Pam Fox Rollin coaches executives to succeed at the next level. She specializes in helping functional leaders who are taking on broader roles with greater strategic opportunity and management responsibility. Her company, IdeaShape Coaching & Consulting, advances leaders and teams at top and emerging Silicon Valley and Bay Area companies in biotech, technology, and consumer products.
About 42 Rules™ and Super Star Press
Super Star Press, a division of Happy About®, was founded to help independent professionals establish themselves as experts in their field through writing, publishing and marketing books. The 42 Rules ™ book series delivers wisdom in the form of compact, high-impact books on personal and professional growth. To learn more visit http://superstarpress.com/about_us.html. For quantity discounts, please contact the publisher, Mitchell Levy at mitchell(dot)levy(at)happyabout(dot)info - 408-257-3000.
# # #