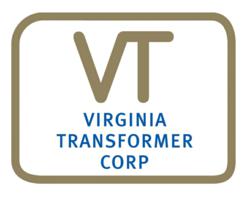 Roanoke, VA (PRWEB) May 06, 2011
Virginia Transformer first opened its doors in Roanoke, VA in 1971, with few employees. Today, the company has expanded to three North American plants and one international procurement office, and employs nearly 600 people. Its customers include a host of Fortune 500 companies, such as GE, Chevron, Oracle, and Consol Energy. VTC has established a position of leadership in the Transit and Heavy Industry Automation markets.
Virginia Transformer Corporation started off as a supplier of power transformers for the mining industry in the Appalachian Mountains. In order to successfully meet the challenges of low profile construction with special dimensions, built to non-standard specifications, Virginia Transformer became from the beginning a specialist in producing custom-designed power transformers that would perform reliably in even the harshest conditions. That spirit of innovation and superior quality has guided the company throughout its 40-year history. As an example, VT recently produced a stainless steel, maintenance free transformer for PPG Industries, at Lake Charles, LA. The company has built a solid reputation in the industry for innovative, cost-efficient design and for having short lead times (both from RFQs to drawings, and from drawings to delivery).
Over the years, Virginia Transformer has steadily increased both the range and size of transformers it offers, and today stands as one of the major U.S. headquartered manufacturers of power transformers, serving virtually every market – Utilities, Commercial Buildings, Heavy Industries, Transit, Chemical and Oil & Gas facilities, Mining, Data Centers, and Renewable Energy projects – providing both oil-filled and dry type transformers.
During the mid 1970s, VT expanded and diversified its customer base and product range. With the elimination of PCB's from the industry in 1977, VT began supplying retrofit liquid filled and dry type transformers built to special physical dimensions. In the 1980s VT continued to expand product lines. Sales of industrial power transformers, commercial power distribution transformers, reactors and load tap-changing transformers increased steadily. Heavy mills, commercial buildings, airports and transit systems across the country became regular VT customers.
The bulk of the company's growth has occurred since 1982, when Mr. Prabhat Jain took over leadership as company president, with only 35 employees. Since that time, he has guided the company forward at a pace unmatched by any other U.S. transformer manufacturer. It was during this time in the 1980s when the company expanded operations into supplying the vast Utility market, which today provides a significant part of the company's annual sales. VT became the leading supplier to switch gear and OEM's such as Siemens, Cutler Hammer, and GE. VT has advanced technologically as well as in size and scope. Throughout its history, the company has continually expanded its staff of well-trained, experienced engineers, and those engineers have worked to provide innovations in transformer design and manufacturing. VT now utilizes special computer programs that have been developed in-house to aid in the design and manufacturing of its transformers, and is continually upgrading its manufacturing facilities with state of the art technology such as robotic assembly and welding. During the 1980s, VT developed the UNICLAD, a premium-duty, air cooled, resin encapsulated dry type transformer. The proprietary UNICLAD technology remains the industry standard for encapsulated dry type transformers, and the transformer of choice in the Transit and Oil and Gas industries.
In 1990, growth continued by moving into a new plant in Roanoke, designed and built exclusively for producing custom transformers with an air conditioned winding room. In 1995, operations expanded with a small power plant in Chihuahua, Mexico as the primary plant for the company's unit substation applications. Today, the Mexico plant provides custom-made dry type and liquid-filled transformers.
Moving into the 21st century, the product range continued to expand in all plants. In 2003 Virginia Transformer acquired a third manufacturing plant in Pocatello, Idaho. That plant originally designed for transformer repairs, has been completely refurbished and now manufactures larger liquid filled transformers. VT became established as a major supplier for utilities and engineering consulting (EPC) firms. The company expanded export operations, especially in Canada and the Latin America market. The engineering department started using CAD/CAE, and VT opened an office in Asia to design and procure materials and accessories throughout the world. All three plants are now ISO-9001 certified. The company became more competitive in the loss evaluated utility market and achieved UL and ABS certification up to 30 MVA.
Virginia Transformer continues to thrive, primarily due to its commitment to continuous improvement. VT entered the 21st century as the fastest growing power transformer manufacturer in the U.S. over the last 20 years, and has become a major supplier for engineering consulting (EPC) firms. In just the past five years, completely revamped training programs for both office and plant personnel have been put in place – staffs have been expanded to provide additional engineering expertise – quality control and field service have been significantly improved – dozens of new machines have been installed, providing increased automation and productivity – VT has established relationships with major project developers in the renewable energy market. And the end result has been a dramatic increase in sales, as more and more firms recognize the superior quality and service offered by Virginia Transformer. Today the company leads in the Industrial application of transformers, and exports to Central America and the Middle East. VT supplies power transformers throughout North and South America, and in over 40 countries worldwide.
###