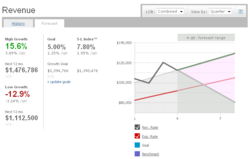 The latest developments at CoreConnex are all healthy indicators that they have hit on an important business need.
Bellevue, WA (PRWEB) May 10, 2011
Corelytics was selected by Intuit® to participate in the Intuit Partner Platform (IPP) Apps Showcase Competition. The Corelytics Financial Dashboard made by CoreConnex, Inc., was among 156 products reviewed by Intuit and has been selected as one of the 30 vendors who will now be spotlighted and promoted by Intuit and will compete for one of four finalist positions in August 2011. The final field of contenders were selected based on the problem size addressed, the quality of solution and uniqueness in the market. "We are delighted to have been selected as a participant in this prestigious program and anticipate that this recognition will propel our business even further," said Frank Coker, CoreConnex CEO. Corelytics will be featured at Intuit's Apps Showcase Event on August 11, 2011 in San Francisco in the final stage of this competition.
Today the financial dashboard is used primarily in the IT solution provider market by small businesses to track and manage monthly financial performance of product sales and service offerings. Corelytics provides benchmarking for IT Solution Providers along with easy-to-use business financial planning and performance analysis. Corelytics has the unique ability to show peer-based benchmarking so users can compare their performance to companies with the same business characteristics within the same industry. Corelytics is beginning its rollout to other industries with formal announcements of new industries being announced in August as part of Intuit's showcase event.
Popularity of Corelytics' hosted subscription has grown to almost 1,000 subscribers among Solution Providers, MSPs, and Telecomm VARs who use the dashboard to monitor their business financial trends, forecast future performance and manage financial goals. Financial data is fed directly from common accounting software such as Intuit QuickBooks, Sage Peachtree, MAS 90 and MYOB and QuickBooks Online will be added for the August event at Intuit. Businesses are set up in a one-hour phone consultation and then easily monitor their own progress with the CoreConnex 30-Minute Monthly Management Plan and ongoing guidance as needed.
Corelytics has a growing network of business advisors, coaches, accountants and VCs who leverage the dashboard to manage their client portfolio and to generate group benchmarks to help their clients see financial performance in a new way. "Businesses are becoming more judicious about their finances and managing with predictive analytics rather than historic data. We have a unique offering and are doing the right things in our market at a pivotal time for solution providers and business advisors," said Frank Coker, CEO.
"The latest developments at CoreConnex are all healthy indicators that they have hit on an important business need and gained enough momentum to expect a very positive outlook for this company – this kind of service and intelligence is needed to propel our industry forward," said Harry Brelsford, CEO of SMB Nation."
ABOUT CORELYTICS
CoreConnex helps small IT businesses quickly access a clear picture of their financial performance using the Corelytics Financial Dashboard, predictive analytics and peer benchmarking tool. Priced at $29 per month and $59 a month, CoreConnex Lite and Standard offerings are an affordable investment for Solution Providers, MSPs, business advisors, coaches and investors to proactively monitor and manage business performance. The Corelytics 30-Minute Monthly Management Plan is helping business owners get a new handle on financial management and move their companies to a new level of performance.
CoreConnex integrates with the major PSA software providers including Autotask®, ConnectWise™ and Tigerpaw® Software. CoreConnex, based in Bellevue, Washington, was founded in 2005 and currently has customers across 11 countries with plans to expand.
For additional information please visit CoreConnex.com or call (866) 221-8394
Press inquiries, please contact Tony Lael: Tony(at)coreconnex(dot)com or (866) 221-8394
# # #