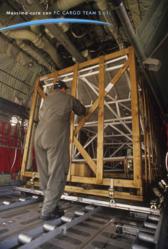 I feel good knowing my shipping is in good hands
(PRWEB) May 06, 2011
International freight forwarders & shipping and logistics company FC Cargo Team has positioned itself as the top choice for companies seeking to import perishable items from Italy and is now offering it's services to US food distributors and importers in the United States.
Originally established in 1998, FC Cargo Team prides itself on a superior network of air, ground and sea international freight channels as well as it's own refrigerated storage and cargo containers that are ideal for shipping food and beverage products. FC Cargo uses state of the art technology for enhanced shipping and logistics to offer efficient, A-Z full service solutions to it's clients. This includes assistance with customs, permits, insurance, specialized packaging and door to door delivery.
FC Cargo knows that the in the past the international frieght business may not have been the most customer friendly. This is why they have gone out of their way to put in a variety of checks and balances as well as providing constant updates so figuring out where your cargo containers and products are is never a guessing game. Customer service oriented shipping and logistics services provide constant updates to clients including photographs of merchandise as well as confirmations for booking, departures and arrivals.
It's no secret that Italian foods and ingredients like balsamic vinegar, truffles and fine wines and cheeses have some of the highest demand worldwide and are craved not only by the world's top chefs and restaurateurs but serious foodies too. FC Cargo has already created quite a name for itself in the international freight business for it's ability to get these precious goods to connoisseurs fresh and on time in countries like Hong Kong, Venezuela, Japan, China, Brazil, Australia. High end US distributors and importers have already found FC Cargo's invaluable. Now they are within easy reach of smaller and new start up specialty food and drink distributors and importers who are looking for a full service solution.
FC Cargo has recently begun promoting it's international freight & shipping and logistics services in the US through the hot food and drink portal FoodEnquirer.com. Here importers and distributors will also find many fantastic Italian food and drink producers and manufacturers with goods that may make excellent additions to their product lines as well as business tips and advice from industry leaders.
###