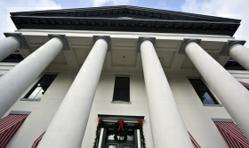 Industry allegations of widespread automobile insurance fraud are just not true, says Patrick J Tighe of X1LAW, P.A.
West Palm Beach FL (PRWEB) May 11, 2011
Personal injury and insurance lawyer Patrick J. Tighe applauds the Florida legislature for saying no to a shortsighted, profit-fueled attempt by insurers to implement damaging changes to the state's personal injury protection (PIP) insurance law. The measures -- representing a drastic reworking of Florida's version of no-fault insurance -- would only have harmed injured automobile accident victims, and prevented them from getting the medical, and financial, recovery they deserve, according to Tighe, senior partner of the West Palm Beach personal injury law firm, X1law.com.
On April 27, the House Subcommittee on Health Care and Human Services voted down the PIP proposal, HB 967/HB 1411, by a 9 to 8 margin.
"This vote confirms what many of us insurance and personal injury lawyers have been saying for years, that industry allegations of widespread automobile insurance fraud are just not true," says Tighe. "If there is so much fraud, why do I pay $393 a year for $30,000 of coverage -- a tiny fraction of what I pay for the same amount of health insurance coverage? Why is that price so low? If there is so much fraud, wouldn't insurers need to pay for investigators and auditors and fraud prevention teams to reign in all of this alleged wrongdoing? If I own a store and I'm getting robbed everyday, don't I have to raise my prices?"
Instead, says Tighe, "the insurance industry uses the word fraud as a red herring to distract everyone. What they really want is to get in measures that would make it harder for injured consumers to file rightful claims. The good news is that the legislature was onto them. The more worrisome news is that this anti-consumer bill was defeated by just one vote and we -- personal injury law firms, insurance lawyers, consumers, automobile accident victims, and so on -- have to be vigilant in continuing to debunk insurer's cries of rampant fraud."
The proposed measures, according to a report in Insurance Journal, would have allowed insurers to use a schedule of maximum charges for medical services and given them more time to investigate claims.
"These aren't steps designed to protect the consumer," says Tighe "They are steps designed to profit the insurer, keeping money in their hands while delaying payment and care to those who need it most:injured automobile accident victims. The insurance industry doesn't want you to file a claim -- it wants to make it too much of a hassle and too long a process."
And they almost won. "The legislature isn't buying their story, and neither should consumers," says Tighe. "Fight for your claim, and if your insurer gives you trouble, get a good personal injury lawyer and fight it together."
For over a decade, Florida personal injury lawyer Patrick J. Tighe has been protecting the rights of consumers, and those who have suffered catastrophic injury in automobile accidents, motorcycle accidents, and other life-changing events. In that time, he has represented -- and come through for -- thousands of individuals in insurance claims that were wrongly denied, delayed, or undervalued. Earlier in his career, Tighe spent nearly ten years working on 'the other side,' defending insurers in injury lawsuits. That experience gave him invaluable insight on how big insurers approach and handle insurance claim cases -- insight that is leveraged every day to bring results, and justice, for clients.
CONTACT:
Patrick J. Tighe
X1LAW, P.A.
(561) 537 5059
###