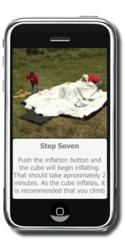 We had never envisioned the QuietGuide® potential for changing the lives of suffering, homeless victims of disasters.
Geneva, Switzerland (PRWEB) May 07, 2011
In a fortunate stroke of marketing and goodwill, QuietGuide® (QG) has been selected by Life Cube Inc. to demonstrate a revolutionary new offering that delivers text-and-image publications to mobile users. For the first time, an important humanitarian use for the QG process will be demonstrated this week in the perfect setting; the premiere emergency preparedness conference at the United Nations in Geneva. Creating and distributing text-and-image publications to mobile users, QG enables multiple authors in any location to create, edit, upload, distribute and sell graphic-rich eBooks and training documents.
With QuietGuide® the graphics are easily embedded and formatted with text, without the well-known complications of desktop word processing applications. The QG process allows multi-user editing with authorization controls, and displays the results in mobile-friendly formats that seamlessly upload for viewing on all smartphones, tablets, computers - any device with a pdf reader. For self-published authors, QG documents allow the user to upload their publications, and to create individualized sales promotions without the responsibility of managing their own e-commerce business processes.
QuietGuide® is web-based and being used by authors around the world. The technology is a breakthrough for the creation of storyboards for video production, and the creation, editing, distribution, and sales tracking of eBooks. The process is also being applied to corporate documentation, medical procedure descriptions, technician repair guides and student and user training documents.
This capability - to receive text and graphics and automatically create downloadable documents - is what attracted Life Cube founder/inventor Michael Conner to QuietGuide®. His inflatable emergency shelter is a unique hybrid of delivery box and rugged, reliable instant housing. Now the Life Cube deployment is documented in QG format, so anyone, anywhere, can download the instructions and inflate the shelter in 5 minutes, without prior experience. The Life Cube and its QG "instruction booklet" are receiving enthusiastic responses from governments and independent aid organizations world-wide. Life Cube QuietGuide
"This kind of partnership is what makes being in business most rewarding," says Marie Profant, CEO of Virtual Publishing Solutions which created QuietGuide®. "When Michael Conner approached us, we had never envisioned the QuietGuide® potential for changing the lives of suffering, homeless victims of disasters. This is a use for our product that has brought a refreshing new dimension to our mission. We are honored to be able to assist with this immensely important project."
The "Life Cube" has become not only a great demonstration tool for QG, but an embodiment of their desire to provide easy solutions for tough situations. Representatives from QG and Life Cube Inc. will be in Geneva this week for demonstrations at the United Nations conference on emergency preparedness. For more on Life Cube, visit LifeCubeInc.com. To see examples of QG in the tourism industry, go to VisualTravelTours.com, and for more information on Virtual Publishing Solutions and the QuietGuide® process, please contact: Annette Edwards at (714) 287-9782, or email: vttprodmgr(at)gmail(dot)com
###