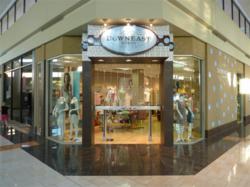 We're excited to now offer Tucson shoppers the styles they would've previously had to drive to the Phoenix metro area to get.
Tucson, AZ (PRWEB) May 10, 2011
DownEast Basics, a high-style, low-price retailer that specializes in trendy fashions as well as modest clothing, celebrated its sixth Arizona location with a new store opening at the Tucson Mall. To officially mark the store's grand opening, DownEast is offering customers a chance to win a shopping spree during a weeklong "Shopping's More Fun with Your Girlfriends" giveaway.
DownEast opened its first Arizona store in the Superstition Springs Mall in Mesa in December 2008. Since then, the brand has added stores in Glendale, Tempe, Phoenix, as well as a second Mesa location.
"When we opened our Superstition Springs Mall store nearly three years ago, it was during an extremely challenging time in the retail industry. Despite the economy, however, it turned out to be the most successful store opening we'd ever had in terms of customer traffic and sales," said Rich Israelsen, chief operating officer for DownEast.
"We took that as a sure sign Arizona consumers were supportive of our boutique styles at a value price point philosophy, and made plans to serve as many shoppers as we could by opening new stores throughout the state. We're excited to now offer Tucson shoppers the styles they would've previously had to drive to the Phoenix metro area to get."
To date, Arizona is second only to Utah, where the company is headquartered, in the number of stores operated by DownEast. "We look forward to growing an even larger retail footprint across the state in coming years," Israelsen said.
Open just in time for summer, the new Tucson store will carry the full line of DownEast clothing and accessories for women, including its swimwear collection that offers mix-and-match options and styles for every body type.
DownEast Offers "Shopping's More Fun with Your Girlfriends" Giveaway
To celebrate the Tucson store opening, DownEast is offering a chance to enter a "Shopping's More Fun with Your Girlfriends" giveaway from Fri., May 13, to Fri., May 20, 2011. Customers can register for the giveaway at the Tucson Mall location and also take advantage of other special grand-opening promotions. The giveaway will award one lucky winner a shopping spree valued at $200 and also present a $50 gift certificate to each of four friends selected by the winner. The winner does not have to be present at the time of the drawing on Sat., May 21, to win.
For contest updates and fashion news, customers can join the DownEast Basics Facebook Fan Page. They can also follow the DownEast By Design blog (downeastbasicsblog.com) for special insights from DownEast's Product Development team.
Visit the New DownEast Basics Store in Tucson
The new DownEast Basics store is in the Tucson Mall at 4500 N. Oracle Road in Tucson, Arizona. The store is located on the upper level near JC Penney.
Bonnie Temple-Harrison will manage the store's staff of five. Prior to joining DownEast, Temple-Harrison operated her own businesses for two decades, specializing in marketing. She is a member of the Tucson Chamber of Commerce.
About DownEast Basics
DownEast Basics (http://www.downeastbasics.com) offers high-design looks on a bargain basement budget for today's cost-conscious yet fashionable consumer. The DownEast Basics clothing line features smart layering pieces and wardrobe enhancing garments so you can embrace the American classic look with your own sense of style.
Shop for cute tops, modest dresses and accessories for women and girls at DowneastBasics.com.
The fast-growing retailer operates nationally with its Basics line via its online store in addition to 43 locations throughout the West including in Utah, Colorado, California, Idaho, Arizona, Washington, Nevada and Wyoming.
# # #