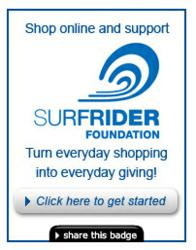 "I have a ton of respect for the ocean. It's like a friend so you've got to treat it like a friend, or better!" Surfing Champion Kelly Slater for Surfrider Foundation
Anaheim, CA (PRWEB) May 09, 2011
nonprofitshoppingmall selected The Surfrider Foundation for May because the organization is celebrating the launch of Summer with various events hosted across the country. They sponsor and organize beach cleanups, dune restoration events, surf film nights, Chapter mixers, concert fundraising events and more. Surfrider invites beach fans of all ages to get involved and help do their part in protecting oceans, waves and beaches.
About Surfrider Foundation
The Surfrider Foundation is a non-profit grassroots organization dedicated to the protection and enjoyment of our world's oceans, waves and beaches through a powerful activist network. Founded in 1984 by a handful of visionary surfers in Malibu, California, the Surfrider Foundation now maintains over 60,000 members and 100 chapters worldwide. For more information on the Surfrider Foundation and to find your local chapter and events, please visit http://www.surfrider.org.
About nonprofitshoppingmall.com and ShopAnthropy:
Corine Couwenberg, founder and president of NPSM: "The beauty of ShopAnthropy is that the seamless integration with partner organizations does not create any additional operating cost nor administrative workload for our participating non-profit organizations. Furthermore it does not create any cost to the supporters and donors. The EZ Shopper App simply earmarks retailer gifting percentages for the NPO while the supporter is shopping online. The funds thus generated create an unrestricted additional revenue stream for the organization."
NPSM offers an online network of nearly 700 retailers worldwide as well as solid web technology to support their nonprofit partners. The technical super hero is the EZ Shopper App. It takes a couple of minutes to download and install the widget to the browser toolbar. From then on, it automatically tracks all online shopping and accrues monies on behalf of the chosen nonprofit.
Organizations interested in our range of services can link to the Overview "How It Works" PDF by clicking the Link.
NPSM supports their partners through social media. nonprofitshoppingmall.com is on Twitter(ShopAnthropy), and on Facebook (We Are ShopAnthropists). Furthermore the company publishes a blog (http://www.shopanthropy.com).
Supporters of Surfrider Foundation are encouraged to visit the website to download or update their EZ Shopper app: http://nonprofitshoppingmall.com/shop/apps/77
###