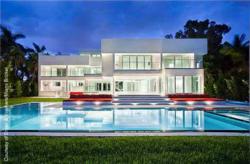 We're optimistic and enthusiastic about the still-hot South Beach residential real estate market.
Miami Beach, Florida (PRWEB) May 10, 2011
Broker Gary Hennes of Gary Hennes Realtors on Lincoln Road is proud to announce the sale of and closing of 40 S. Hibiscus Drive for $9.35 million dollars, making this the largest home sold in Miami Beach this year.
This eight bedroom home on Hibiscus Island with 120 feet of Biscayne Bay frontage was sold by Gary Hennes Realtors agent John Nilbrink representing the buyer and Engel & Voelker's Lourdes Alatriste and Silvia Aranzazu Plana representing the seller. The 8000 square-foot house, built in 2010, was listed for $9.9 million.
The Hibiscus Island home sold is brand new construction and designed by architect Chad Oppenheim. The home sits on a half-acre lot with 120 feet of water frontage. The home sports a 162 foot pool spanning two sides of the magnificent modern home.
More information about the home can be found at http://tinyurl.com/6djdn6a and http://tinyurl.com/63uemb4.
Gary Hennes Realtors recently entered its sixth year of operation, located in the same boutique location vacated by Coldwell Banker, just off Lincoln Road next to the world-famous Van Dyke Café.
"Our select group of boutique Realtors perched on Lincoln Road are from all over the world, including the U.S., Italy, Sweden, Cuba, France, Canada and the UK, to name just a few. As the New York real estate firms have entered the market and opened on South Beach, Gary Hennes Realtors stays competitive by providing the finest properties, from the most exquisite art deco and historic luxury condos to sophisticated luxury waterfront properties with million dollar views," said Gary Hennes. "Our philosophy is to create a concierge relationship where buyers, sellers and our Realtors thrive," said Hennes.
---------------------------------------------------------
Gary Hennes Realtors is located in the still-hot South Beach residential market, just off Lincoln Road Mall in South Beach at 1633 Jefferson Avenue in Miami Beach in the historic Van Dyke Shops. For further information, contact Gary Hennes at (305) 281-6551 or visit http://www.garyhennesrealtors.com
# # #