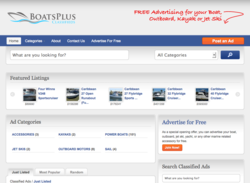 ... by leveraging our current infrastructure we are able to offer an affordable marine classifieds alternative.
Melbourne, Victoria (PRWEB) May 08, 2011
Highly regarded Australian online marine trading site, BoatsPlus, has traditionally focused on showcasing new boats and motors. However, in a bid to offer an affordable alternative to those wishing to buy and sell used boats, it has now launched BoatsPlus Classifieds.
A Challenge To Existing Boat Sales Sites
BoatsPlus Owner, Luke Moulton, decided to challenge existing online used boat sales sites because, he believes, they are over-priced and do not offer consumers the best bang for their buck.
"The online boating classifieds competition is quite fierce - there are some big players providing ads for both dealers and domestic customers." he explained. "We believe that by leveraging our current infrastructure we are able to offer an affordable alternative."
That the BoatsPlus.com.au website already receives over 45,000 visitors per month, speaks volumes for the high regard in which it is held in the Australian boating community. With the addition of the new classifieds section for boat sales, along with outboard motors, yachts and other marine accessories, the site will, Moulton believes, "maximise our existing visitor's experience".
The Australian Marine Love Affair
Australia has always had a water-loving population, having a great affinity with water sports, including sailing, cruising, jet-skiing, canoeing, kayaking and water skiing. It should therefore come as no surprise to learn that boat-ownership is one of the goals of its coastal population.
In what many agree to be challenging economic times, the trend has been for Australian's to holiday at home, often with water sports playing a key role. As a result, the BoatsPlus team is committed to placing a high degree of importance on delivering the best possible value to its customers through its new classifieds service.
Used boat classifieds will be an important addition to the BoatsPlus online portal, which currently features:
Boats For Sale
Boat Engines
Outboard Motors
Motor Yachts
Kayaks
Boat Share
Boat Accessories
Personal Watercraft
Boat Reviews
Time-Sensitive Free Listing Offer
A very limited introductory offer for a free classified listing is available now at Free Used Boat Listing.
# # #