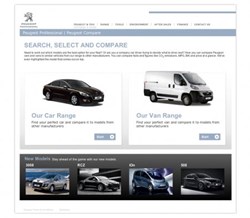 (PRWEB UK) 8 May 2011
With business customers primarily in mind, Peugeot has launched a new dedicated website that allows fleet customers and company car drivers to compare key facts and figures to see which Peugeot or competitor is best in key sectors.
This new website is less prescriptive than some others as it allows users to prioritise the key elements that affect their choice, including the P11D cost of the vehicle, Company Car Tax, CO2 and MPG.
By simply visiting http://www.peugeotcompare.co.uk individuals can select a car or van option and will then find a simple-to-navigate site, with sliding adjustable scales at the top, determining the levels of importance of the four key criteria. As the sliders are moved, so the model choice increases or decreases as to how many of them qualify. At any point it is then possible to see displayed the applicable Peugeot line up and then introduce the competitors within the same criteria. It is also possible to compare with models outside the criteria, if felt necessary.
Phil Robson, Director, Fleet Sales, Peugeot UK, said: "At a time when we and our competitors offer our customers such a wide choice of models, I think it is important they get to evaluate the merits of our products in a way that suits them, and the 'PeugeotCompare' website brings an ease of use solution to an otherwise complicated dilemma. It also shows the strengths of all our products in a more levelled, comparable environment, and I encourage everyone to give it a try."
About Peugeot UK
Peugeot is part of the PSA Group – Europe's 2nd largest automotive producer and is one of the top ten vehicle brands in the world. In 2010 the Peugeot brand celebrated its 200th anniversary.
Its UK subsidiary has its headquarters in Coventry and there are 250 Peugeot Dealerships throughout the UK.
The product portfolio includes Electric Cars (iOn), petrol & diesel cars (107 Compact, 207, 308, 3008 Crossover, 4007 SUV, 5008 Compact MPV, 508 & RCZ Sports Coupé) and MPV people carriers / vans (Bipper, Partner, Expert & Boxer).
Notable for its recognised products that include the ever-popular Coupé Cabriolet, it's dependable and economical HDi diesel & petrol engines, and its very stylish designs.
Peugeot is also recognised for producing low emission cars, supplemented with the debut soon of the world's first diesel hybrid – the Peugeot 3008 HYbrid4.
To obtain high resolution downloadable images of the Peugeot range of low emission cars please log on to the Peugeot Press website: http://www.peugeotpress.co.uk (Newspress passwords apply)
Press Contacts
Andrew Didlick \ +44 (0)24 7688 4309
Andrew.didlick(at)peugeot(dot)com
Ian Sedgwick \ +44 (0)24 7688 4216
ian.sedgwick(at)peugeot(dot)com
Kevin Jones \ +44 (0)24 7688 4215
kevin.jones(at)peugeot(dot)com
Craig Morrow \ +44 (0)24 7688 4261
craig.morrow(at)peugeot(dot)com
Janet Brace \ +44 (0)24 7688 4257
janet.brace(at)peugeot(dot)com
###