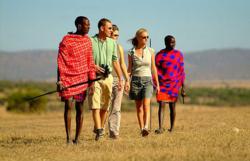 (PRWEB) May 08, 2011
Gamewatchers Safaris, part of the internationally renowned Porini Group, has recently been nominated for a TravelMole Web Award. It is being recognized for its exemplary performance as an Inbound Operator for an African Destination. With the long-standing and respected reputation of TravelMole, Gamewatchers' nomination for this award comes as a welcome recognition.
TravelMole is the oldest website online that is dedicated to the travel and tourism industries. They have been around since 1998 and are recognized as one of the top trade websites of the industry. This is the inaugural year for this awards ceremony. Finalists for these awards include the directors of numerous prestigious African travel and marketing companies. The event will be held at the Southern Sun Elangeni hotel and is sponsored by Tourism Kwa Zulu Natal, RWA Ltd, A2bTravelExtras, Lead Generators, and Southern Sun Elangeni hotel.
Porini isa collection of eco-safari camps established in exclusive wildlife conservancies away from the crowds. Even before this nomination, Porini has long been recognized as a premier destination for individuals seeking an authentic safari experiences in pristine wilderness. Porini Kenya Safari Camps provide their guests with the opportunity to visit small, exclusive safari camps in remote wilderness. Guests are able to experience the primeval nature of the surrounding landscape in a way that is both rare and unmatchable. By providing this level of quality in camp, Porini is able to provide an enhanced experience to their guest that stays with them for life. A large part of the mission of Porini's camps is to provide an image of productive conservation in action. The wildlife conservancies that their camps operate in are accessible only because of the positive impact they have on the community. Through understandings with local residents, Porini has been able to ensure the preservation of swathes of vital wilderness habitat. Porini has achieved this vision by providing locals with a viable financial alternative to over-exploitation of their lands. By partnering with locals, Porini has safeguarded the future of the both the local indigenous tribes and the endangered African wildlife.
The nomination of Gamewatchers for its outstanding record of service is a welcome addition to a growing list of recognitions. The fact that this nomination comes from a website with such a long history in the travel/tourism industry makes this nomination even more memorable.
###