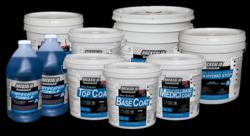 "We couldn't be a better fit for each other," says Patrick Ilfrey, CEO of RockSolid Floors®. "Hirshfield's painting experience especially compliments our Medici® system, though all of our products are great for any Hirshfield's customer."
Minneapolis, MN (PRWEB) May 08, 2011
RockSolid Floors® and Hirshfield's have come together to open new opportunities for both companies and their contractors. Hirshfield's now carries the RockSolid Floors® Professional series of floor coatings, including their latest development in coating technology—RockSolid's Single Component Polyurea. This partnership allows contractors to provide their clients with one of the industry's strongest floor coatings through one of the leading retailers in decorating products.
Both companies are based in Minnesota, allowing for easy coordination between the two. Because Hirshfield's already has over 100 years of decorating experience in both other forms of flooring and in paint coatings, RockSolid's products allow them to combine two areas they already excel in to open a new market for themselves, creating a perfect fit between the two companies.
"We couldn't be a better fit for each other," says Patrick Ilfrey, CEO of RockSolid. "Hirshfield's painting experience especially compliments our Medici® system, though all of our products are great for any Hirshfield's customer. We're especially excited for their help in spreading awareness of our Single Component Polyurea products."
Included in these products are RockSolid Floors® Single Component Polyurea Solutions, a series of polyurea floor coatings with virtually unlimited pot-life. This allows installers as much time as they wish to finish their projects with no waste. This also minimizes required inventory space and labor, making Single Component Polyurea significantly more profitable for installers. Single Component Polyurea's unique composition retains polyurea's usual 4 to 8 hour walk on and 24 hour return to service when applied, despite its unlimited pot-life. It also keeps polyurea's elongation and flexibility, is still 20 times stronger than epoxy, remains a "green" product, and comes in convenient one gallon buckets. This is the core of RockSolid's Medici® system, which adds their color shots to the coating and applies it with a special two-headed roller to provide the elegance and beauty any contractor would expect from a product sold by Hirshfield's.
For more information about RockSolid Floors Professional® or the company, please visit http://www.RockSolidFloors.com or contact Adam Moore at 1-866-765-4310.
###