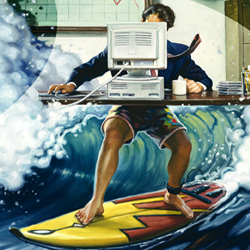 Melbourne, FL (PRWEB) May 09, 2011
Wavecrest Computing announces a number of upgrades to their business-level CyBlock and Cyfin Internet-usage management products. These new features provide innovative components to further enhance reporting, filtering and monitoring functionality. Credit for these improvements goes to the company's exceptional Research and Development team. Its members work continuously to stay at the forefront of Internet-usage reporting, filtering and monitoring, and for the last several months they have been busy incorporating a number of powerful new features. Among these are custom report-building capability, real-time bandwidth monitoring, PDF formatting option in reports, drill-down reporting from the Dashboard, and filtering by half-hour increments to allow for normal surfing during breaks, lunches or after hours.
The ability to build, save and name custom reports is one of the highlights in the latest functionality. This new flexibility allows users to focus more efficiently and specifically on the exact Web-use data they need to make effective Web-use management decisions.
If bandwidth is a concern, CyBlock Proxy and Cyfin Proxy's new bandwidth monitor feature provides real-time bandwidth usage data for the top users. This can help you identify the source of bandwidth spikes while controlling use of bandwidth-intensive sites and avoiding network slowdowns.
According to Wavecrest Computing's Chief Executive Officer, Dennis McCabe, the majority of all new features added to Wavecrest's products are a direct result of feedback received from customers. "Our main goal in starting out this year has been to take that feedback and quickly deliver quality features that provide more customization and flexibility that can cater to each customer's acceptable use policy. Customization has been key in what we have been hearing from our customers, and that's what we strive to provide."
Mr. McCabe also pointed out that as the Internet grows, so do associated risks. These risks that can lead to workplace productivity losses, legal and criminal liability, bandwidth drains, and network security threats. As discussed above, Wavecrest is fully committed to addressing these issues by continually enhancing their monitoring, filtering and reporting products. Since 1996, their efforts have earned them a client base of over 3,500 organizations, many with well-known names such as Procter & Gamble, Lockheed Martin, HP, Volvo, British Telecom, Edward Jones, Blue Cross/Blue Shield, IBM, and Burlington Northern Santa Fe Railway (BNSF).
Wavecrest Computing's solutions are known for their accuracy, usability, scalability and cost-effectiveness. Found in commercial, educational and government organizations of all types and sizes, the company's products are relied on by IT personnel, HR professionals and business managers to proactively address issues of Internet abuse, legal liability, security threats, workforce productivity and misuse of valuable bandwidth.
###