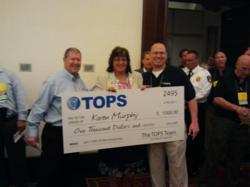 Karen's dedication to the community management industry and her hard work epitomize the best attributes of a community manager and made her a great choice for this inaugural award
Gaithersburg, MD (PRWEB) May 08, 2011
TOPS Software, the leader in accounting based community management solutions for the Condominium and HOA industry, announced that Karen Murphy from The Case Bowen Company was the winner of the 2011 PCAM Scholarship.
"We received a great number of applications for the TOPS Software PCAM Scholarship, but Karen's dedication to the community management industry and her hard work epitomize the best attributes of a community manager and made her a great choice for this inaugural award," said Mike Hardy, Vice President of Sales and Marketing.
Karen Murphy, who says she's not normally at a loss for words, was "speechless" when she had found out that she won.
"TOPS has served the Condo and HOA management industry for 26 years and beginning in 2010 we decided we wanted to give back to this rich community. In 2010 we launched a series of educational webinars and built on that in 2011 with a technology road show called the AMLF Tour (http://www.amlftour.com) which has been a big success. Offering a PCAM Scholarship is just another way we can support Community Associations Institute (CAI) and the excellent programs they offer," said David Black, Senior Vice President of Operations at TOPS Software.
TOPS Software will offer a PCAM Scholarship in 2012 for all candidates that will receive their PCAM designation between this year's CAI National Conference in Boca Raton, FL and next year's event in Las Vegas, NV. All candidates are urged to visit http://www.topssoft.com to learn more about the TOPS Software PCAM Scholarship and to apply.
About TOPS Software
TOPS is the industry leading Community Management software solution. TOPS is in use in over 2,000 organizations to manage millions of homes. TOPS is a complete accounting and property management system that brings all facets of community management together in one, integrated system.
###