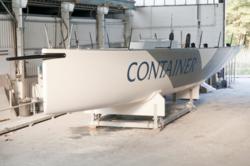 We are looking forward to see some thrilling racing action with these fantastic boats and we are exited to have these two strong contenders on the starting line.
(PRWEB UK) 6 May 2011
Rán IV, was the first boat that was completed in a bespoke female hull tool that was shared between both teams. With three victories and a total final placement of second overall at her first appearance at the Mapfre Palma Vela Regatta, Rán IV, which is helmed by her owner Niklas Zennström, has already demonstrated that she is a competitive contender.
Niklas Zennström has successfully campaigned his Green Marine build 72' Mini Maxi Rán II for the last two years and after winning the 2010 world championships in this class he decided to take on the challenge to race against the pros in the TP52 circuit.
Rán team representative and project manager Chris Hosking, who has previously been involved in a number of TP52 campaigns, said after the first sea trials: "The Rán IV technical team together with Green Marine have delivered a boat that was designed and built to such a high level that we have not seen before." Rán IV will be the benchmark for the TP52 fleet this year, both for her technical finesse and for her stunning appearance.
Udo Schütz, German Entrepreneur and Yachting Legend, also decided to join the highly attractive TP52 box rule with his new Container. The Container was built using the Schütz state-of- the-art honeycomb technology – Cormaster. This was delivered in pre-formed panels to Green Marine to exactly fit the hull and deck shapes.
Tom Swift, representative and project manager for team Container, managed to get the project completed in record time. The boat was delivered directly to Cascais, Portugal as planned on schedule. Tom said: "Thanks to the great commitment and support from Green Marine, we could deliver the boat well in time and at a more complete state than any other racing boat I have seen fresh from a yard."
Nominated as skipper and helmsman again for Container is Markus Wieser, the current European Champion and second place finisher of the World Championship in the Dragon class.
Marcel Müller, Managing Director at Green Marine, said: "The 2011 Audi Med Cup will be without doubt the most competitive mono hull racing series this summer. We are looking forward to see some thrilling racing action with these fantastic boats and we are exited to have these two strong contenders on the starting line."
For further information on Green Marine please visit http://www.greenmarine.eu or telephone +44 (0)1590 672356.
Notes to Editor
Green Marine is an established performance boat builder in Lymington, UK, and has been building many of the world's best known racing and cruising yachts for 28 years, including the Volvo Round the World Race contenders, America's Cup challengers, and cutting-edge performance superyachts.
Green Marine is part of the Vitters Shipyard group - a well known builder of top quality yachts and has been specialising in custom yachts, high performance cruising yachts and super yachts for over 28 years. It has earned a world-wide reputation as a leading specialist in advanced carbon fibre moulding techniques. In recent years, the company has applied its expertise to superyacht hulls of over 40m in length and to a wide variety of composite industrial and commercial components, including steering systems, canards, hatches, water tight doors and superstructures for racing and super yachts.
Contact Green Marine
Email: info(at)greenmarine(dot)co(dot)uk
Tel: +44 (0)1590 672356
http://www.greenmarine.eu
For more information
Contact: Zoe Hiljemark, PR Account Director / Jenny Pearce, Senior PR Account Executive
E-mail: zoe(at)marketing-matters(dot)co(dot)uk / jenny(at)marketing-matters(dot)co(dot)uk
Tel: +44 (0) 1202 777111 / +44 (0) 7770 924439
Address: Marketing Matters, Unit C, Acorn Business Park, Ling Road, Poole, Dorset, UK, BH12 4NZ
# # #