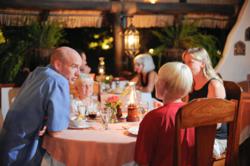 With so much to see and do during the summer months in Belize we wanted to create affordable vacation packages offering variety, flexibility and a good mix of activity and relaxation
(PRWEB) May 06, 2011
An interesting new trend in holiday travel – grandparents taking their grandkids on exotic summer adventure holidays– is taking place in Belize, according to managers of the Lodge at Chaa Creek.
"Here at Chaa Creek we're seeing an interesting phenomenon – taking the grandkids on an exotic summer adventure vacation with or without the parents," Chaa Creek marketing administrator Larry Waight said yesterday.
"Today's grandparents seem to be a little bit more creative and adventurous than those of previous generations, and want to spend more time with their families away from the television, computers, X Boxes, PlayStations and other modern distractions to enjoy time together in nature."
Mr Waight said there has been an increase in grandparents – yesterday's baby boomers, social activists and nature lovers – taking their families on more adventure and health oriented summer vacations in Belize.
"From our standpoint, it's a great trend. Chaa Creek has always been very family friendly. People can choose from hiking, swimming, canoeing down pristine rivers, horseback or mountain bike riding through jungle trails, wandering through ancient Maya temples, going on guided nature walks, exploring miles of sacred Maya caves, and a huge amount of other activities, so there really is something for everyone.
"We're also seeing a trend where the parents stay home to work or just relax by themselves while the grandparents spend more quality time with the youngsters over the summer school vacations. It really is a great bonding experience when the different generations share such experiences together," Mr Waight said.
In response, Chaa Creek has developed a Belizean Summer of Love program with an emphasis on affordable, all-inclusive Belize family summer vacations.
"With so much to see and do during the summer months in Belize we wanted to create affordable vacation packages offering variety, flexibility and a good mix of activity and relaxation," Mr Waight said, "For example, Rainforest to Reef packages allow families to combine a real Maya cultural experience in lush rainforest with a true Caribbean island holiday. Due to Belize's small size and amazingly diverse ecosystem, we can offer these packages in a very affordable and hassle free manner."
Mr Waight said he thought a range of factors such as economics, availability of free time and lifestyle considerations was driving the trend, but felt the grandparents themselves were the main element. "It was well before my time, but from what I've seen of people from the 1960s and 70's, it must have been a great, and very interesting time. No wonder they like Belize..
For information about The Lodge at Chaa Creek, toll free USA 877-709-8708, UK 0-207-096-0329, Belize 501-824-2037 reservations(at)chaacreek(dot)com or visit the web site at http://www.chaacreek.com.
###