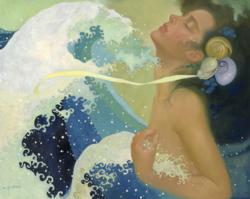 Greenwich, CT (PRWEB) May 08, 2011
Experience the allure of Spain in the United States, the staff at Martin Lawrence Galleries invites you to spend an evening being charmed by renowned contemporary Spanish master, Felix Mas. Galleries will unveil his two stunning new hand-signed serigraphs on canvas celebrating the female form, El Mar (The Sea) and Los Suenos (Dreams).
Mr. Mas will be available to meet collectors, discuss his artwork and dedicate purchased serigraphs and paintings at the following Martin Lawrence locations:
Oak Brook, IL -- 182 Oak Brook Center -- Friday, May 6th -- 7-9 pm
New Orleans, LA -- 433 Royal Street -- Saturday, May 7th -- 7-9 pm
Dallas, TX -- Dallas Galleria -- Sunday, May 8th -- 2-4 pm
(Inside Saks on three)
Newport Beach, CA -- Fashion Island -- Friday, May 13th -- 7-9pm
La Jolla, CA -- 1111 Prospect Street -- Saturday, May 14th -- 6-9 pm
San Francisco, CA -- 747 Beach Street -- Sunday, May 15th -- 2-4 pm
All exhibits will also feature the artist's latest original oil on canvas paintings. "Original paintings by Mas are highly sought after due to their rarity and his print works are exquisite in their detail. Collectors will not want to miss the opportunity to acquire both serigraph and originals at these events," says Eric Dannemann, President of Martin Lawrence Galleries.
Obsessed with form and color Felix Mas is fascinated by the expressive potential of the female body. His figures clearly express the ideal of femininity and never cease to captivate us with their graceful radiance.
Founded in 1975, Martin Lawrence Galleries are distinguished in their commitment to offering the very best in fine quality artwork by Picasso, Chagall, Rembrandt, Warhol, Haring, Erte, Liudmila Kondakova, Robert Deyber, Philippe Bertho, Kerry Hallam and many others. We have loaned nearly 250 artworks to over 30 museums around the world, including the Whitney Museum of American Art, the National Gallery of Art in Washington, D.C. and the Museu Picasso in Barcelona, Spain.
For more information on the Felix Mas Spring 2001 Tour, please visit http://www.martinlawrence.com. Then, come visit, acquire, and benefit from these extraordinary events.
Follow us at twitter.com/tweetMLG
# # #