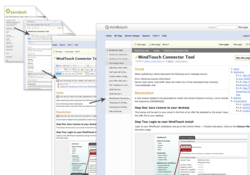 "We are building a social knowledge base that turns costly support conversations into a profit center."
San Diego, Calif. (PRWEB) May 06, 2011
MindTouch, the provider of exceptional and engaging product help experiences, today announced a co-development product with the industry's most innovative provider of web-based help desk and support ticketing: Zendesk. Available immediately, all Zendesk customers receive a free MindTouch social knowledge base.
The jointly developed solution provides a seamless experience for support agents to search against MindTouch TCS, the social knowledge base, in the context of the support ticketing system. In a click, users can publish support tickets to MindTouch as knowledge base articles.
Current knowledge bases are often an after-thought, and are where support tickets go to die. MindTouch replaces these legacy products with a collaborative and social knowledge base. This is the first time that customer support, technical writers and product marketers and managers have been given a compelling offering for efficiently growing their product help content, while at the same time engaging with their community of users and brand advocates.
Integration Features and Capabilities
MindTouch TCS is the industry's first truly social knowledge base, bridging the gap between those users who want to know, and those that do, providing a community setting for product users to learn and flourish. It includes the following features and capabilities:

Wiki-like collaborative authoring for support agents and subject matter experts, even end users, to co-author and edit KB articles
Video and rich media support
An adaptive search engine that learns from user behavior
Content scoring and feedback mechanisms, which give your community a voice in helping you grow and improve your content
Curation analytics, which provides site owners and community managers the insights into how your users are engaging with your content
Companies like Autodesk, Intuit, Paypal, HP-Palm, HTC, RightScale and ExactTarget already leverage MindTouch TCS to lower support costs by ticket deflection and improved resolution on first contact. MindTouch is used by millions every day.
The new product integration forms a continuously improving, cross-functional relationship reflecting today's service and support best practices. This seamless relationship creates high-value customer interactions that can then be fed back into products and marketing initiatives, creating a competitive advantage for Zendesk and MindTouch joint customers.
"We're excited to bring the MindTouch Social Knowledge Base to Zendesk customers," said Zack Urlocker, COO of Zendesk. "Of our 10,000-plus customers, a very large number of them desire ways to empower their communities to help each other. With Zendesk being the fastest way to enable great customer service and MindTouch providing a quick way to build knowledge bases through social media participation, the partnership is a natural fit."
MindTouch TCS re-defines existing customer support solutions by allowing customers to easily search and discover product help information, and both actively and passively participate in the creation of updated content.
Features of the MindTouch for Zendesk support widget include:

Fully integrated search of your MindTouch powered social knowledge base from your Zendesk interface
1-Click posting of Zendesk support tickets to your MindTouch powered social knowledge base
Completely integrated, no additional services required
As existing support processes evolve, the content and communities themselves adapt to become increasingly social and collaborative.
"With the help of Zendesk, we are building a social knowledge base that turns costly support conversations into a profit center," said Aaron Fulkerson, Founder and CEO of MindTouch. "Great support interactions are an opportunity to educate and evangelize, but only if the experience is immediate and in context. This product sets a new standard for businesses committed to developing strong and unique support communities."
Zendesk customers can create their free, single seat MindTouch TCS instance by visiting this page.
About MindTouch
An open-source and collaboration leader since 2005, MindTouch provides the world's most respected social knowledge base and develops purpose-built help 2.0 communities for many of the world's most trusted brands. Millions use MindTouch every day. MindTouch delivers exceptional and engaging product help experiences by creating a community experience atop online help content. Thousands of great companies like Paypal, Autodesk, The Washington Post, Mozilla, HTC, HP-Palm, and Intuit use MindTouch. Learn more at http://www.mindtouch.com.
About Zendesk
Zendesk is a leading provider of web-based help desk software that is reinventing how companies engage with their customers. The company serves more than 5,000 businesses large and small, including Groupon, MSNBC, Twitter, OpenTable, Adobe, and Rackspace Cloud. Zendesk products are easy to customize, integrate, and use so companies can quickly start offering better customer support. Founded in 2007, Zendesk is funded by Charles River Ventures, Benchmark Capital and Matrix Partners. Learn more at http://www.zendesk.com
# # #