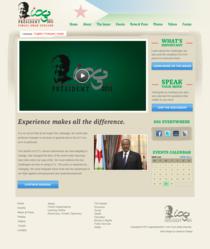 After looking around quite a bit, we are so glad to have found DreamCo Design.
Chicago, IL (PRWEB) May 10, 2011
Ever wonder where high-flying politicians or those with governing aspirations go when it comes to putting together a great political website? Recent analysis shows the answer to that question is DreamCo Design.
DreamCo Design is a nationally recognized web design company that serves up custom web design and marketing services for a range of businesses. Their recent spike in requests for political websites comes without surprise with the next political season right around the corner.
Though DreamCo Design has been responsible for the consulting, designing, and developing of political websites for various politicians at all governing levels, the request to develop a website for an international president is a first.
SENEX and the governing leaders for the (.dj) domain ending were instructed to seek out a talented political web design and marketing company to put together a website strategy to help represent the recently re-elected President of Djibouti, Ismail Omar Guelleh.
Their reach to the west demonstrates their continued outlook on economic development and the tide of change being brought forth in the small republic.
A preview of the new website can be seen in this article. A link to the test server which displays the mockup can also be seen here: http://www.dreamcosites.com/djibouti/mockup.html
Politicians seeking online guidance for professional political web design and marketing can contact DreamCo Design directly by reviewing their website. http://www.dreamcodesign.com
###