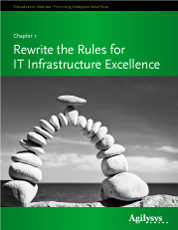 This book is an insightful view into the state of the virtualization industry right where it is today. Kathy Tito, President, New England Sales & Marketing
(PRWEB) May 16, 2011
Agilysys, Inc. (Nasdaq: AGYS), a leading provider of innovative IT solutions, has just announced the release of an insightful new eBook, "Virtualization Realized: Promoting Enterprise Value Now," which helps companies realize strategic and operational excellence by exploring the role of virtualization in their datacenter.
CORE NEWS FACTS:

This free four-chapter ebook serves as a concise roadmap for virtualization planning.
Chapter one, available for download now, provides insight into how virtualization is rewriting the rules for technology systems management.
Subsequent chapters, to be released through July, 2011, will address how virtualization can holistically solve data center challenges, minimize resource strain, simplify identity management and reduce time and costs while enhancing security and compliance.
Registrants will receive immediate notifications as each chapter is released.
BOILERPLATES:
About Agilysys Technology Solutions Group
Agilysys Technology Solutions offers businesses a broad selection of IT solutions and services that optimize the infrastructure. Using our partnerships with industry leading software and hardware vendors, coupled with our technical expertise and experience, we help customers select the most appropriate optimization and information solutions to achieve their business goals. We offer solutions in Data Security & Compliance, Business Continuity Data Management Cloud Computing, High Performance Computing Virtualization, Data Center Consolidation, and as well as Operational Efficiency.
About Agilysys, Inc.
Agilysys is a leading provider of innovative IT solutions to corporate and public-sector customers, with special expertise in select markets, including retail and hospitality. The Company uses technology—including hardware, software and services—to help customers resolve their most complicated IT needs. The Company possesses expertise in enterprise architecture and high availability, infrastructure optimization, storage and resource management, identity management and business continuity; and provides industry-specific software, services and expertise to the retail and hospitality markets. Headquartered in Cleveland, Agilysys operates extensively throughout North America, with additional sales offices in the United Kingdom and Asia.
For more information about Agilysys Technology Solutions Group, call 877.358.0424, see us on Facebook or visit our Newsroom.
###