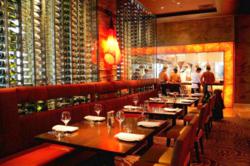 PeopleSync really helped us change our thinking around hiring, we immediately saw how we needed to consider the fit of potential candidates to the specific environments at each location
Addison, TX (PRWEB) May 09, 2011
PeopleSync today announces that Foodfund international will be using the Shadowmatch® workforce optimization and precision recruitment system to streamline their hiring process as well as enhance employee performance. The mission of PeopleSync is to allow you to place the right person in the right position, and do this every time.
When asked about the experience working with PeopleSync and Shadowmatch®, Marianna Couvaras, Head of Human Resources, Middle East & London for FoodFund International said "PeopleSync really helped us change our thinking around hiring. Instead of building profiles and assuming people would be successful, we immediately saw how we needed to consider the fit of potential candidates to the specific environments at each location."
The Shadowmatch® assessment system is the most widely used tool for Candidate Context Synchronization(CCS) in the world. One purpose for CCS systems is to evaluate a candidate based on their behavior patterns, an area that is typically overlooked by companies. Most companies do a very good job at evaluating potential new hires based on the experience and skills they have. Even though these companies manage this part of the hiring process well, they still hire candidates that never reach the expected level of success in the position. As an example within the food service industry, having a candidate for a wait staff position that does not exhibit a high level of the habit for "Responsiveness" may indicate a potential problem.
This simple example highlights that hiring decision must go beyond education and experience, as there are also behavior characteristics that pre-dispose an individual to be successful in a position. Shadowmatch® allows the hiring manager to create a "benchmark" that is developed by assessing the habits of top performers in a particular role. The system then compares the habits of candidates to the benchmark, and based on this information makes a statistical prediction of success. This process gives employers a powerful new tool to predict success prior to hiring.
"There is an emphasis within FoodFund International to embrace their strong culture and promote the wide diversity of their employees", says Adrian Wood, VP of Business Development, PeopleSync. "While this is strength for the company, it does set an additional challenge for Human Resources to find the employees that fit the culture and retain them in productive working teams. I am often asked whether the Shadowmatch® system addresses working environments that have diverse cultures? The answer is that it is highly accurate at predicting the success of people working together, regardless of their culture, background, age or gender. The system transcends culture and focuses purely on the inherent habits and behavior patterns of individuals to precisely predict which people will work together productively, regardless of their background. This is exactly the task that Shadowmatch® excels at", said Wood.
While hiring is one use for the Shadowmatch® system, it is also very effective in assessing the dynamics within teams. This can be very useful in developing optimal working teams within an organization. Marianna Couvaras further stated, "Just as we want our restaurants to be fun places for our customers to dine, we want them also to be fun places for our employees to work where they feel like they are part of a family. Over time, we hope to dramatically increase our employee retention rate by both selecting the best fit employees as we hire them, and developing and investing in the people we already have in place."
About PeopleSync
PeopleSync, based in Dallas, Texas provides an innovative and flexible workforce optimization system called Shadowmatch® that will allow companies to rapidly optimize their current workforce and enable precision recruitment. The system provides an organization or personnel placement company with a complete cockpit to create benchmarks of top performers, based on their habits. The system compares the habits of candidates to the benchmark, and uses this information to predict the success of the candidate prior to placement. This allows companies to find the right candidate for a position every time. The system has many uses beyond recruitment, including leadership identification, succession planning, team building, personal development, conflict resolution, career development and much more. Since the system is fully automated and internet based, it can easily scale to serve the needs of any size business, and provides instant results. Companies consistently find the Shadowmatch® system offers deep and comprehensive capabilities to better hire, manage and develop their workforce.
For more information:
Contact: info(at)peoplesync(dot)com
Phone: 972-588-3365
URL: http://www.peoplesync.com
About FoodFund International
FoodFund International comprises a team of exceptionally talented, innovative and dynamic individuals, whose key objective is to distinguish themselves by delivering superior returns for all their stakeholders by means of establishing and growing a base of 'concept' and branded restaurants both locally and internationally. FoodFund International considers itself; above all, a people and customer centric business. Developing people, on a personal and professional level is a top priority for the organisation. FoodFund International owns and manages food brands across South Africa, Australia, Middle East and London.
For more information:
http://www.themeatco.com
http://www.ribsandrumps.com
###