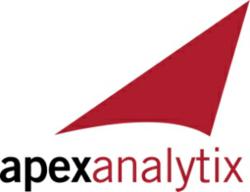 Greensboro, NC (PRWEB) May 07, 2011
APEX Analytix, the industry leader in recovery audits, statement reviews, overpayment detection, and fraud and risk management for procure-to-pay, today announced it will sponsor a free accounts payable benchmark study during Fusion 2011, a May 8-12 international gathering of financial services professionals.
Attendees will be able to visit an on-site, self-service kiosk and complete the study in real time.
APEX Analytix is an industry leader in benchmarking. The company's large-company accounts payable and retail recovery audit Compass Benchmarking surveys offer organizations a way to continuously improve their operations. Many of the world's largest corporations routinely participate in order to assess where they stand in comparison to other "best in class" organizations. There is no charge for a custom compilation of the survey to companies who qualify based on size and invoice volume.
Partnering with Client Companies to Share Best Practices
A variety of APEX Analytix executives and subject matter experts will join with their clients from The McGraw-Hill Companies, SunTrust Bank, The Walt Disney Company, T-Mobile and a large global retailer to lead Fusion 2011 sessions in fraud detection, specialty audits and more. The schedule includes:

Retail Post-Audit Best Practices: Empowering Internal Teams to Add Tangible Value, led by Jeremy Dotson, APEX Analytix VP, and joined by manager of Financial Recovery Services for a major global retailer. Monday, May 9.
Do You Have What It Takes to be a Star? Five Years of Accounts Payable Best Practices, led by David Hester, Senior VP of Operations. Scheduled for Wednesday, May 11.
What's So Special about Specialty Audits, led by Jeremy Dotson, APEX Analytix VP, and Jim Janos, APEX Analytix director of tax and freight solutions. Scheduled for Wednesday, May 11.
Collaborative Solutions to Collective Problems, led by Joe Collins, senior director of client value at APEX Analytix. Scheduled for Wednesday, May 11.
The Evolution of Fraud Prevention and Detection within Your Organization, led by: John Brocar, VP of fraud risk solutions at APEX Analytix; Lynn Lucas, AP manager-quality controls with The McGraw-Hill Companies; Amy Boone, AP supervisor with T-Mobile; and Lisa Miles, VP-FSU-AP accounting manager, SunTrust Bank. Scheduled for Thursday, May 12.
Squeaky Clean: Vendor Master Cleansing, led by Chris Siemasko, VP of product management at APEX Analytix and Linda Murray, AP manager of quality controls at The Walt Disney Company. Scheduled for Thursday, May 12.
Fusion 2011 will bring together members of three organizations: International Accounts Payable Professionals, International Accounts Receivable Professionals and The Association for Work Process Improvement. For more information on the event, visit http://www.iappnet.org.
About APEX Analytix
APEX Analytix helps companies unlock their potential by maximizing their profitability and safeguarding disbursements globally. Our innovative people, processes and technology have transformed the audit recovery industry – led by FirstStrike®, our family of standards-based software. For more than 15 years, FirstStrike® has been used by some the largest accounts payable teams on the planet to detect and prevent errors, halt fraud in its tracks and improve procure-to-pay performance. APEX Analytix also is the world's leading provider of recovery audit and risk analysis services for the manufacturing, retail, government, services, healthcare and insurance sectors, where we help firms recapture lost profits and protect trillions of disbursements each year. For more information, visit http://www.apexanalytix.com or call 800.284.4522.
# # #