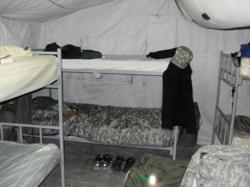 Because of the large number of troops that rotate in and out there are a lot of dealing for home comforts here like refrigerators and microwaves and other items that you can't bring back to the States. -- SFC Jory, Kuwait
Grass Valley, CA (PRWEB) May 08, 2011
On average, Service members and their families are PCSing every 2 to 3 years and there are many resources available to them to make this life changing process easier for them. However, the U.S. has had hundreds of thousands of troops in OIF and OEF for a decade and even with the victory of Osama Bin Laden's death, the flux of deployed troops in and out of the Middle East isn't letting up yet.
While many deployed troops may not want to get "too comfortable" in the combat zone, little things can make the stay there more bearable while away from loved ones, whether it is a bike to travel around the perimeter of camp or a gaming system.
Not too long ago, SargesList received an email from a deployed soldier jokingly saying "Hey, what about us? Don't we matter?" He explained the need for creature comforts and the lack of ability to know "if someone on the other side of the camp is selling something unless through word of mouth or bulletin boards."
Therefore, SargesList is excited to announce their expansion of bases to include Forward Operating Bases in Kuwait, Afghanistan and Iraq. This was done with the vision of helping deployed troops buy and sell items more safely and easily. The site's original purpose was to assist the military during PCS or every day life, which obviously needed to include our deployed soldiers.
"Because of the large number of troops that rotate in and out there are a lot of dealing for home comforts here like refrigerators and microwaves and other items that you can't bring back to the States. Also with the Civilian Contractors, it would be safer for them to buy / sell things on SargesList vs. going out on the economy to get or sell a car upon departure, etc." SFC, Kuwait
SargesList hopes U.S. troops will see the value in their site's unique DOT MIL functionality and take advantage of their global site to post items they need to sell, buy what they need at a good price, find local base information, connect with others in their private forums and lastly, share with their fellow soldiers (including Air Force, Navy and Marines) in a more safe, easy and free environment. The more who use the site the more valuable it becomes for everyone who use it.
# # #