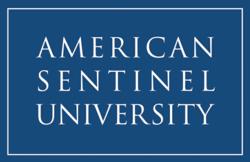 "All students are well-versed in database technologies and security, which makes our students invaluable to their employers."
Aurora, CO (PRWEB) May 10, 2011
One-third of companies in the U.S. seek professionals and managers that can bridge the divides between information technology (IT) departments and business managers, yet only one out of four companies is concerned with the technical aptitude of job candidates. There is an even greater concern about their lack of business skills. According to members of IBM's user group SHARE and Database Trends and Applications subscribers, there is a disconnect between professionals with technology degrees and the types of skills companies critically need and seek in job candidates.
American Sentinel University launched a new IT blog series: Bridging the IT Skills Gap: Capitalizing on the High Demand for IT Professionals, a three-part series available at http://www.americansentinel.edu/blog/category/it/ to educate recent college graduates and current IT professionals about the skills employers seek.
The blog series, to be published through May, covers such topics as:

The skill sets that companies looking for in their new hires
The best ways to attract interest from hiring managers at companies
How to become a star in the IT job market
The specialties that are in high demand and offer the best pay growth
The safest job in IT
There is high demand for experienced IT professionals, and according to SHARE, hiring plans are strongest for skilled programmers and developers with 59 percent of companies indicating that they are currently hiring or planning to soon hire programmers and developers with a range of skills.
Positioning Students for Success in the IT Industry
American Sentinel's online computer science degree programs concentrate on C++ programming and students are required to take courses in C# and VB.net as well as Java to prepare them for the business environment. In addition to programming classes, students are required to take architecture, systems analysis and problem solving courses to ensure they receive a well-rounded education.
The demand is high for specific IT skills, but employers are looking for business-savvy, problem-solving employees as well. IT professionals need to understand the 'big picture' of how computers work, from deep-level programming to high-level applications, servers and other aspects of the data center.
"Our computer science and IT graduates take two courses in communications, one in problem-solving and learn C++, Visual Basic and C# programming skills that will allow them to program in an enterprise system," says Danette Lance, professor, technology at American Sentinel University. "All students are well-versed in database technologies and security, which makes our students invaluable to their employers."
Go to http://www.americansentinel.edu/blog/category/it/ to read the Bridging the IT Skills Gap: Capitalizing on the High Demand for IT Professionals blog series and leave your comments.
For information about American Sentinel University's online Bachelor of Science and Master of Science Information Systems degree programs, please visit http://www.americansentinel.edu/online-degree/bachelor-degree-online.php and http://www.americansentinel.edu/online-degree/online-masters-degree.php or call 866.922.5690.
For more news updates, information and special offers, follow American Sentinel University on Twitter http://twitter.com/amersentinel and become a Facebook fan at http://www.facebook.com/americansentineluniversity.
About American Sentinel University
American Sentinel University delivers the competitive advantages of accredited associate, bachelor's and master's online degree programs focused on the needs of high-growth sectors, including information technology, computer science, GIS, computer information systems, and business intelligence degrees. It also offers online health systems management and health informatics programs. The university is accredited by the Distance Education and Training Council (DETC), which is listed by the U.S. Department of Education as a nationally recognized accrediting agency and is a recognized member of the Council for Higher Education Accreditation.
# # #