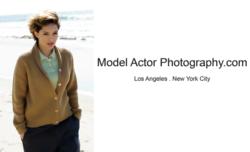 I just looked at the prints and they are gorgeous!!! Wow! Thanks for giving me the headshot (s) I feel 100 percent about!
Katherine K. (by text)
Los Angeles - 2011
Los Angeles, CA (PRWEB) May 11, 2011
Los Angeles Headshot and Model Photographer (also specializing in Commercial, Fashion and Advertising Photography), Model Actor Photography, is delighted to present the following New Faces to the creative community. Model Actor Photography will host these New Faces and future Headshot and Model Portfolio clients for an indefinite amount of time for the creative community to see. If you are a creative director, casting director, model manager/agent or an actor manager/agent; feel free to contact Model Actor Photography (phone: 213.804.1710) and we will be glad to provide you with the Resume of any of the New Faces you wish to be in contact with. This is a completely free service to you and the talent on this site, New Faces.
About Us:
Model Actor Photography works as a creative team. The team is made up of some of the best seasoned talent the creative world has to offer. Lead Creative and Owner, Renee, believes that all imagery is only as strong as the creative team. The creative team is made of Renee (lead creative - plus grips), the wonderfully talented make-up artist Bethany and the impressively talented graphic artist/retoucher Costanza Perez. Constanza joined the team May 2011 and has proven to be a valuable asset which has lead to several great reviews from clientele. As a complete team, Model Actor Photography brings the absolute best in photography, always looking at the "End Game" for the client. The "End Game" being a completely successful photography campaign from inception of the Brief to the imagery exceeding client expectations.
For 16 years Renee has been producing great fresh images. Whether you are a model or actor looking for an agency or you already have an agency and you are looking to update your portfolio (book), an advertising agency or a magazine looking for a new creative look, Renee can assemble the photography you need for top quality images.
Quality Photography is the only standard.
Services:
Life Style Photography, Editorial Photography, Business Portraits, Model Portfolios, Actor Head Shot Portfolios, Boudoir Photography, Advertising Photography, Commercial and Fashion Photography.
For new Headshot and Model Portfolios, Model Actor Photography is offering a huge 25% discount from May 2011 to July 2011. Please contact us directly to schedule these sessions.
Follow Us on LinkedIn and FaceBook.
Please contact Renee directly for all commercial photography needs, 213.804.1710
###