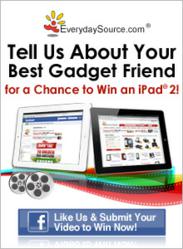 We are excited for the opportunity to interact with our customers on a more personal level.
El Monte, CA (PRWEB) May 10, 2011
EverydaySource.com, a self-proclaimed "gadget-loving" company, has launched a graduation themed video contest on Facebook and will award one lucky winner with an iPad 2. While the cell phone accessories retailer has hosted several contests and giveaways to date, this will be the first-ever video contest.
EverydaySource.com will play off of the idea that graduation is a time during which many people both reflect on old memories of good times and must part with old friends. Putting their own spin on what constitutes a "friend", the cell phone accessories retailer invites participants to tell how their favorite gadget has personified an old friend, citing examples such as an iPod that turned a boring road trip into a 10 hour sing-along.
To participate in this contest, entrants must submit a video no more than 90 seconds long, telling the world about their favorite gadget, or a particular memory of their favorite gadget.
The contest will begin at 12 a.m. PST on 5/9/11 and end at 8:59 a.m. PST on 6/6/11, giving participants almost a month to collect as many Facebook 'likes' as possible. The entrant whose video has the most 'likes' when the contest ends on June 6 will win a brand new iPad 2.
Jack Sheng, EverydaySource.com CEO explains, "Utilizing video as a method for engagement is a great way to connect with our fans. We are excited for the opportunity to interact with our customers on a more personal level."
With this contest, the cell phone accessories retailer hopes to not only remind its Facebook fan base what EverydaySource.com is all about—electronics accessories, but also gain more insight as to the types of roles that gadgets have played in their customers' lives. Further, EverydaySource.com will highlight its broad selection of iPad 2 accessories.
For official rules and to enter, visit facebook.com/everydaysource.
With over 47,000 compatible listings in 7 product categories, EverydaySource.com is a one stop shop for all accessories for cell phones, computers, MP3, video games, digital camera, home theaters, printer/ink toner, and more. To help customers save, EverydaySource.com offers everyday deals, and frequent site wide promotions.
EverydaySource.com is currently the #3 globally ranked eBay seller with over 1.7 million positive feedbacks. Founded in 2000, EverydaySource.com offers high quality electronic accessories at bargain prices and hassle free shopping experience with 100% Money Back Guaranteed.
###