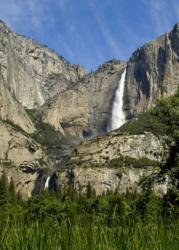 By saving money on gas, guests can see more of the waterfalls in Yosemite, ride the Yosemite Mountain Sugar Pine Railroad enjoy Bass Lake, tour the Madera Wine Trail or explore the Fossil Discovery Center in Chowchilla.
Oakhurst, CA (PRWEB) May 08, 2011
As gas prices continue to rise, many businesses throughout Madera County: California's Gateway to Yosemite are offering discounts aimed at taking the sting out of filling up to go on vacation.
"Many hotels and attractions know that families still want to take trips, but are looking at ways of doing so without impacting the family budget," said Jarrod Lyman with the Yosemite Sierra Visitors Bureau. "These incentives, when combined with the central location of Madera County, make the region very attractive for vacation seekers," he said.
Discounts include popular hotels such as The Redwoods in Yosemite, which is offering a $50 gas card for all stays in the month of May. The Madera Valley Inn in Madera, known as the historic gateway for Yosemite National Park and is perfect spot for day tripping to Kings Canyon and Sequoia National Parks as well, is offering a $25 gift card redeemable at numerous businesses including gas stations with any three night stay.
Even smaller properties are offering discounts. The Yosemite Sierra View Bed and Breakfast in Oakhurst is offering a $10 travel incentive for any two night stay, as is the Sierra Mountain Lodge bed and breakfast in Ahwahnee.
The Holiday Inn Express in Chowchilla is offering help with both gas and meals. The newer property just off of Highway 99 is offering a package deal that will cover $10 for gas and a dining credit as part of its Yosemite Package.
Other properties are dropping room rates to make up for gas prices. The Hampton Inn in Madera is giving $10 off of room rate to make up for gas.
Others, like the Springhill Suites by Marriott in Madera are going all out, offering the "Cars Eat Free" package. Stay with Springhill Suites by Marriott, Madera any day June through August 2011 and your stay will include a $25.00 "gas" card redeemable at any station accepting the visa logo. Package is priced at $134.00 mid-week and $114.00 weekend. A $25.00 gift card is earned for every night stay you book.
"It's the perfect way to explore Yosemite and the surrounding area," said Lyman. "By saving money on gas, guests can see more of the waterfalls in Yosemite, take a train ride aboard the Yosemite Mountain Sugar Pine Railroad enjoy Bass Lake, tour the Madera Wine Trail or explore the Fossil Discovery Center in Chowchilla."
# # #