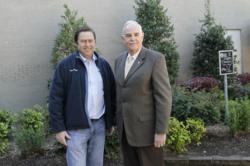 Wet & Forget is widely available and easy to use, so we're encouraging and enabling homeowners to do it themselves – to beautify their communities, one home at a time.
Elgin, IL (PRWEB) May 19, 2011
Wet & Forget, manufacturer of the safe and easy-to-use moss, mold, mildew and algae stain remover of the same name, is embarking on a grassroots campaign, encouraging homeowners to beautify their homes and local communities across the country. Wet & Forget offers do-it-yourselfers an environmentally gentle exterior surface cleaner that solves cleaning challenges such as removing algae stains and mold streaks from roofing, siding, walkways and more. And the company is demonstrating firsthand how to get the job done.
"Wet & Forget has proven successful cleaning exterior surfaces in New Zealand over the past thirty years, and now we're building momentum in the United States," explained Brett Perry, president of Wet & Forget U.S. operations. "Beyond the product's effectiveness and gentle environmental profile, we want the Wet & Forget brand to become synonymous with 'enhancing your surroundings.' We believe there's no better way to accomplish this objective, than to partner with like-minded cities and citizens in joint beautification efforts."
Operation Facelift
The Wet & Forget beautification project campaign launched April 5, 2011 in Duncanville, Texas. Perry and Wet & Forget employees joined forces with Duncanville Mayor David Green and City of Duncanville officials for "Operation Facelift." This "beautification team" identified sites throughout the City – focusing on heavily soiled areas and exterior surfaces with stubborn moss, mold, mildew and algae accumulation – and posted signage and took "Before" photography.
Employees from the Duncanville Parks & Recreations Department applied Wet & Forget to these sites: high-profile, high-traffic municipal locations including City Hall, Duncanville Fire Station, Hill Clinic, Huntington Park and Rotary Park as well as private residences.
For the Duncanville applications, Wet & Forget was diluted with water at a 5:1 ratio, applied using pump-up garden sprayers and required no scrubbing, no rinsing and no power washing. Application involved simply saturating the moldy roofs, siding and other surfaces, with subsequent wind and rain performing the gentle cleaning action over time.
The first visible results appeared on a wooden fence with algae, which was transformed from green to its original wood finish in just two weeks. The team will shoot "After" photography and video at regular intervals to document the progress of the beautification efforts at all of the "Operation Facelift" sites.
"We're committed to enhancing local communities with our product," concluded Perry. "Wherever possible, our employees are leading by example and rolling up their sleeves at beautification projects. Wet & Forget is widely available and easy to use, so we're encouraging and enabling homeowners to do it themselves – to beautify their communities, one home at a time."
The ultimate outdoor moss, mold, mildew, and algae stain remover, Wet & Forget is an environmentally gentle choice for any exterior surface. Developed three decades ago in New Zealand, Wet & Forget was launched in the United States in 2005 and is available at participating Ace, Do It Best and True Value Hardware stores, as well as a variety of national and independent home improvement, hardware and lawn & garden retailers. It is also available for commercial use via Grainger.com. For more information about Wet & Forget, visit http://www.wetandforget.com or call 888.727.8524. Also, follow us on Twitter and Facebook or read our blog at AskWetandForget.com.
###