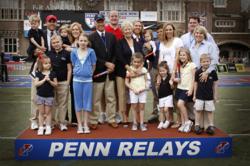 Without AAE in our backyard, the Penn Relays growth and influence would not be as great as it has become.
Royersford, PA (PRWEB) May 06, 2011
AAE (Aluminum Athletic Equipment Co.), manufacturer of top-quality athletic equipment and Official Supplier to The Penn Relays, announced that President Tim Driscoll and his family are the recipients of the 2011 Steinbrenner Family Heritage Award. Presented during the Carnival on Saturday, April 30, 2011, this honor was established in 2001 to recognize multi-generational families for their support and dedication to the Penn Relays. Named for the Henry Steinbrenner family, the award is a tribute to the 1927 Penn Relays 120-yard hurdles champion from MIT and his son, George, himself a hurdler at Williams College and the Lockbourne Air Base, who had been a major benefactor of the Relays.
"The family of Tim Driscoll, the heirs to the legacy of John Marzucco, has aided the Penn Relays immensely through the years," commented Dave Johnson, Director of the Penn Relays. "The Driscoll family, and through them, the broader family of Marzucco's AAE-- Aluminum Athletic Equipment Company, have given of their time and experience as officials at the Relays," Johnson added. "The energy they've put into the Relays and the sport of track and field through their innovative technical advancements of track and field equipment is a year-round venture. Without AAE in our backyard, the Penn Relays growth and influence would not be as great as it has become."
Tim Driscoll accepted the award in the presence of his entire family: Patti Driscoll (wife of 40 years); his four children - Leigh Driscoll Diskin, Brooke Driscoll Keith, Page Driscoll Syron and Adam Driscoll; their spouses - Kevin Diskin, Scott Keith, Tom Syron, Jen Driscoll and 10 grandchildren. Of the above-mentioned children and spouses, seven of the eight are involved in the family business today.
"I'm honored to receive this prestigious award," stated Tim Driscoll, "and especially grateful that I can share it with my entire family." Driscoll continued, "I wish my uncle [John Marzucco] could share in these accolades as well because he was the one who started it all."
John Marzucco founded AAE in 1950 and was involved in the Relays as a coach, official and equipment supplier. His legacy of commitment to The Penn Relays was passed, like a baton, to the next generations, which Tim Driscoll and his family have carried into the 21st Century. Video footage of the award presentation can be found on the myAAEworld channel on YouTube at http://www.youtube.com/myaaeworld.
Since inventing and patenting the aluminum rocker hurdle in 1950 for the track marketplace, AAE has introduced a multitude of new products for use by coaches and athletes worldwide. With the use of advanced technology and design innovations, the firm makes over 500 items, including: track hurdles; track starting blocks; discus cages; pole vault pits; high jump pits; long jump pits; permanent, portable, hinged or rotating football goal posts; semi-permanent or portable soccer goals; field hockey goals; lacrosse goals; baseball batting cages; baseball foul poles; ball stopper protective sports netting; portable press boxes; team benches; portable bleachers and Kronum goals. AAE develops, fabricates and assembles most products at its Royersford headquarters and manufacturing location near Philadelphia. For more product information call 800-523-5471 or visit myAAEworld.com.
###