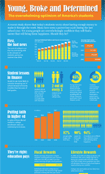 Foster City, CA (PRWEB) May 09, 2011
Schools.com, a leading education website, today announced the launch of a new infographic that breaks down the optimism of today's students in a grim economy. The visual, which is based on results from the recent AP-Viacom Survey of Youth on Education, contrasts the financial struggles that plague America's students with the hopefulness they feel regarding their post-collegiate careers. The infographic also highlights the fact that despite struggles and fears, college enrollment rates continue to rise, with 90 percent of students expecting to find a job in their field, despite financial concerns.
"The overwhelming optimism of today's students is amazing to me," said Seth Restaino, spokesperson for Schools.com. "The fact that so many financially burdened students are willing to borrow more in order to meet rising tuition costs is testament to both the perceived and real values of higher education."
Some of the other woeful facts on display in the infographic include the average debt levels for graduating seniors, since loans are what these students rely on to pay college costs. The infographic also shows the confidence levels most students have regarding their futures.
Other studies have effectively proven that education does indeed yield a significant return on investment. According to CollegeBoard.org, median earnings of bachelor's degree recipients working full-time, year-round in 2008 were $55,700, $21,900 more than median earnings of high school graduates.
To see the complete infographic and read more coverage about trends in higher education, visit Schools.com and follow @SchoolsEDU on Twitter.
About Schools.com
Schools.com is the definitive digital resource for education, connecting students and prospective students with the right information, people and schools to help them advance in life. Featuring in-depth sections with faculty interviews, campus tours and national education news the site aims to be a hub for higher education topics and trends.
# # #