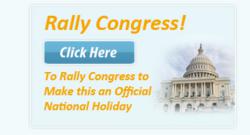 Austin, Tx (PRWEB) May 08, 2011
It is no secret that working moms do a lot. They raise families, work jobs and help their children become the leaders of tomorrow. All of that hard work deserves some recognition. This is what sparked a recent movement by the team at WorkingMomOnly.com to Rally Congress to create a new holiday. The holiday would be called Working Mom's Day and fall the day after Mother's Day of every year.
In preparation for Mother's Day, the folks at WorkingMomsOnly.Com, a website specializing in the empowerment of working mothers, are coordinating this effort by requesting that people share their video and sign their petition. They have set up a website at WorkingMomsDay.Org with a special tribute video for working moms that can be shared as a gift for Mother's Day. They also have a page at http://workingmomsday.rallycongress.com/4378/join-working-moms-day-movement/ to collect signatures of support to send to Congress to get this holiday established.
"Working moms have more influence on what our world will look like in the future than any other single group of people," said WorkingMomsOnly.com founder MaryEllen Tribby. "They set an example, for everyone, to lead with integrity, courage and strength. All the more reason to honor them with a day that is just for them - a day that falls right after Mother's Day."
How much influence do working moms have? According to a May 2010 report from the Congressional Joint Economic Committee, the percentage of two parent families where the mother was the sole breadwinner, rose from 4.9 percent of two parent families in 2007 to 7.4 percent in 2009. While the numbers aren't huge, the fact that this growth took place during a recession shows how important working moms are in providing for their families. So it is not surprising that since going live a little less over a week ago, the website has collected over 200 signatures and more signatures are being added each day.
"Let's recognize this amazing group of women who juggle full-time work with child rearing, all while excelling in their careers." Tribby said. "Families all over the world depend on working moms for support in areas ranging from education to providing food, clothing and shelter for the entire family. So, let's give them a special gift this Mother's Day and have a Working Moms Day to honor all that these women do for their families and the world."
To sign the petition, go to: Working Moms Day
About WorkingMomsOnly.Com
Established in 200X by marketing expert MaryEllen Tribby, WorkingMomsOnly.Com is a website specializing in the empowerment of working mothers. Its mission is to supply the necessary tools, be it financial information, work/life balance information, health information or parenting information, all working moms need to live the life they have always dreamed of. In 2011 WorkingMomsOnly.Com, became a part of the Austin, Texas based Idea Incubator, LLC, a distributor of information products.
## More ##
About Idea Incubator, LLC
Founded in 2009 and located in Austin, Texas, Idea Incubator distributes information products online. Idea Incubator currently is composed of three divisions, Lamplighter Publishing LLC http://lamplighterpublishing.co/, a publisher of Christian books, audio books and character building books, Sharptrade Partners, LLC http://www.foreximpact.com, a website for those who trade on the Foreign Exchange Currency Market (Forex) and Infomastery LLC http://www.drivingtraffic.com/ , a company that helps business owners become more successful by offering information products that helps them market their business through email, website, and social media marketing techniques.
###