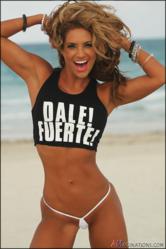 How does Celebrity Jennifer Nicole Lee blast ugly fat and tone sexy sleek muscle tone? With her method of training called JNL FUSION, weaving in strength and cardio in under 45 minutes. For more info, visit www.JNLFusion.com
Los Angeles, CA (PRWEB) May 06, 2011
In Jennifer Nicole Lee's, "Busy Mom Fitness Plan," she shows that there are no excuses for achieving fitness goals. JNL shows how to be a mother, wife, business woman, and still have a hard rocking body, with, "kiss me abs," and, "glutes that salute," all due to her innovative lifestyle approach all captured in this concise and catchy online webisode series produced by the number one online fitness website, BodyBuilding.com.
Jennifer Nicole Lee has become a household name in over 110 countries in just less than six short years. Everyone has their own 'thing', fitness happens to be JNL's, and she shares it with these four videos.
Some people are great at math, or at architecture, at writing poetry, or even at gardening, but Jennifer Nicole Lee, otherwise known as JNL, just so happens to be excellent at fitness modeling. JNL wasn't born into a wealthy or prominent family, and didn't have much growing up. One thing she was born with however, was natural charisma and a knack for being in front of the camera - "click-click, flash!"
JNL admits that she was blessed with many gifts that all miraculously aligned with being a fitness model. She has always enjoyed working out and living a super-fit healthy lifestyle, and oh yeah she's also pretty attractive, so she's got that going for her too.
In this series, JNL shares the following:
How to Find Motivation: As a mom, a wife, and a very busy modern day multi-tasking woman, many need to give themselves the gift of exercise and self-respect! View here http://www.youtube.com/watch?v=OdvpmecxSL8
Fuel Up For Success Actually, to look like a super fitness model or enjoy the health benefits of looking like one! See Jennifer Nicole Lee's JNL-Approved nutrient-rich, super healthy foods that are goo View JNL Nutrition Here http://www.youtube.com/watch?v=DNJonkfhS9o
Shape up Fusion Style No room for excuses—No gym required for JNL's method of training, called JNL FUSION. Do this workout at home and still enjoy a sexy and super-fit body.
http://www.youtube.com/watch?v=hnBWShFA6rQ
A photo shoot is a great gift as a reward for sticking to goals. And its not essential to be a fitness model to book a photo shoot. See celebrity Jennifer Nicole Lee Fitness Model Factory Photo Shoot Tips here
http://www.youtube.com/watch?v=oinyc-4Ah3M
For more information, please visit http://www.JenniferNicoleLee.com
###